So how many of you remember Bruce Springsteen's "Dancing in the Dark" video? You know, the one where he looks into the crowd and spies a cute girl with short black hair. That girl was none other than Courtney Cox and most people consider this to be her first big break into the business. Well anyway, as the video progresses Bruce pulls her up on stage with him and they begin to dance. Granted, they're not "dancing in the dark" since it's a well lit stage, but nobody seemed to care about that because one look at her and they'd be all, "Awwww! Look how cute she is dancing her little heart out up there with him!"
Cut to the 90's with the show "Fresh Prince of Bel Air". It was a funny sitcom sure, but in my mind there is only one magical thing that actually made the show truly worth watching: The Carlton Dance! If you are one of the few, sad, uncultured individuals who have never witnessed this amazing spectacle of rhythm and coordination, please feast your eyes upon the following two animations:


Breathtaking isn't it? Seriously, there never has and never will be a greater dance. Well I recently found out that Alfonso Ribeiro (Carlton) actually came up with the dance after watching Courtney Cox dance in the Bruce Springsteen video. His dance is simply an exaggerated parody of what she did in the video... and somehow that makes the Carlton Dance all the more hilarious when watching it.
Alfonso Ribeiro I salute you.

In case you haven't heard already, the new Xbox system was released and is already sold out everywhere. And while it has games with real pretty graphics and all that jazz, there is simply no excuse for the shit that is taking place on eBay.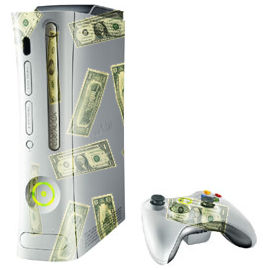 Simply put; people are spending a sickening amount of money on these systems. While the system shouldn't cost you much more than 400 bux, they're currently selling for over a thousand bux on eBay. Take a look at this auction which just ended.
$2,750.00 Who the fuck has that kind of money to throw away on a video game system. When I think of all the things I could buy with $2,750.00... well let's just say that the new Xbox wouldn't even make the list.
And what astounds me is that it's not even necessary to spend that kind of cash to get one of the systems. If you wanted one that badly, you could've camped out like plenty of other people did, or just found one of those shops that had plenty to go around as long as you got there at a decent hour. But no, you skip all that and shell out thousands extra just to buy it on eBay? Fact is, you're gonna be able to get those Xbox systems soon enough. It won't be that hard at all, really. You'll just go to a local retailer and pick up the box, pay for it at regular price, and that will be that. No camping out, no insane fees on eBay, nothing.
But hey, if you really gotta have that Xbox right now, go ahead. Go right ahead. Waste all that money and spend it on an overpriced eBay Xbox auction. I'm sure all that cash out the door is worth the 3-4 weeks of extra play you'll get before everyone else. Right?
Call me crazy, but I'd prefer to wait until all 3 of the new systems are out before deciding to buy one anyway. "But what about the parents? Surely some of them are spending extra just to make sure their kids don't cry their precious little hearts out come Christmas!" You know what? Screw those kids. No kid should get a present that costs more than 3 months of rent. That should be a new law. If they want the Xbox 360 and nothing else, just give 'em a raincheck with a nice little bow on it for Christmas. The Red Ryder BB gun is one thing, spending thousands on a video game system is something else entirely.
So what am I thankful for this Thanksgiving? I'm thankful that I'm not an impatient spendthrift fuckwad like those chumps on eBay.

Just a quick note here today... I have a new piece that went up on National Lampoon last week. Check it out!
Masters of the Universe Mini-Comics Retold!



If you've been waiting for the right time to register an account in our message forums to get to know some of the other regular I-Mockers, now might be the perfect time. The I-Mockery forums are always busy as can be, but there's some extra fun going on in them right now. First off we're holding a unique new contest:
Up for grabs is two brand new copies of "The Matrix: Path of Neo" for the PC, but with this contest we're trying something a little different. We're having people create a story by editing screenshots from the video game into other situations. Take a look in this thread and check out some of the hilarious pics that people have already come up with. So basically, not only do you get to create new photos using the video game graphics, but you get to determine where the story is headed next. The top two pictures in the story will be the winners of the contest. Entries will be judged solely on humor, and as you can see by the current entries, you don't need to be a Photoshop wizard to win this contest. You can use MS Paint for all we care, just have fun with it. This contest will end December 15th. Post as many photos as you like!
The Matrix: Path of Neo story contest:
http://www.i-mockery.net/viewtopic.php?p=365351
In other news, the 2005 Mock Wars have started in our forums. 16 select forum regulars qualified for this contest in which they will be pitted against other individuals in a battle of wits. They can mock one another however they chose, and then the panel of registered judges will vote on who they think performed best. After all the rounds have been completed, whoever is still left standing will be the proud owner of this schnazzy new I-Mockery trophy with the shiny ass: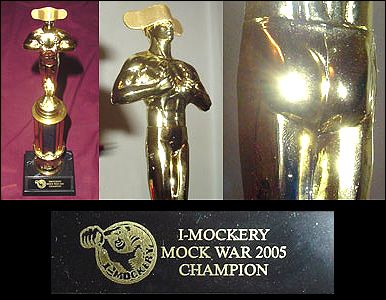 Pretty nifty trophy eh? Big kudos to Chojin for coming up with it! There's already been some real funny moments in the mock wars and things are bound to get even more amusing as each round goes by and the competition gets tougher. So definitely keep your eyes peeled on how this year's mock wars are coming along.
The 2005 Mock Wars:
http://www.i-mockery.net/viewforum.php?f=30

In addition to the recent radio interview, one of the local papers was cool enough to do a feature on the Richmond Zombie Walk that we recently had. They interviewed me and included a few pics from it. Thought you guys might like to check it out so here's a scan of the article: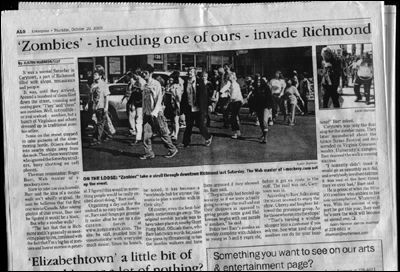 click here to read it
And in other news, one of our biggest pieces of the holiday season has arrived! I worked for 3 days straight getting this piece looking just right and I really think it's one of our best ones yet. Big thanks to Jones Soda for sending us both of their 2005 Holiday Packs, and of course thanks to my extreme beverage tester compadres!
EXTREME BEVERAGE TESTERS vs. THE 2005 JONES SODA REGIONAL & NATIONAL HOLIDAY PACKS!
Hope you all enjoy the piece. Lemme know whatcha think!

I've been wanting to revamp the I-Mockery blog for a long time, but never had the time to get around to it. Well as you can see, I finally made the time to get it up 'n running. It should be a lot more user-friendly, especially to those of you familiar with all those oh-so-popular WordPress blogs out there. It's also a lot less buggy than the old blog. From an admin standpoint, it has many more options than the old blog did so I can customize it to hell 'n back if I so desire. I particularly enjoy the ability to block all automated spam advertisement bots that would flood the blog with penis enlargement casino teens. I'm sure you'll all miss seeing 'em though. Should you ever feel nostalgic, you can still view the old I-Mockery blog archives here.
In other news, I've been on a break of sorts as I'm sure you've noticed with the lack of site updates so far this month. Just wanted to take some time off after doing nonstop Halloween updates since early September. Combine that with launching a new site (costumecritic.com), testing for my black belt, managing the Richmond zombie walk 'n more and I'm sure it's easy to see why I was ready for some r&r. And if it's not easy to see, consult your optometrist you blind fuck.
Anyway, I'll have some new pieces up on the site soon enough, so just stick around. In the meantime, drop a comment here in the new blog and lemme know whatcha think!
On a final note, I would like to dedicate this first new blog entry to the Flowbee:
If only everyone knew the true power of the Flowbee...