Zombies and salmon flavored soda
In addition to the recent radio interview, one of the local papers was cool enough to do a feature on the Richmond Zombie Walk that we recently had. They interviewed me and included a few pics from it. Thought you guys might like to check it out so here's a scan of the article: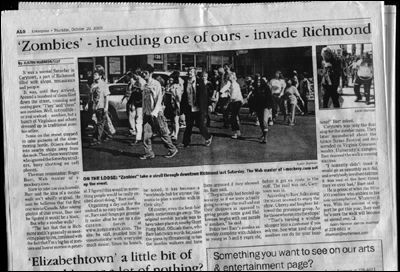 click here to read it
And in other news, one of our biggest pieces of the holiday season has arrived! I worked for 3 days straight getting this piece looking just right and I really think it's one of our best ones yet. Big thanks to Jones Soda for sending us both of their 2005 Holiday Packs, and of course thanks to my extreme beverage tester compadres!
EXTREME BEVERAGE TESTERS vs. THE 2005 JONES SODA REGIONAL & NATIONAL HOLIDAY PACKS!
Hope you all enjoy the piece. Lemme know whatcha think!
25 comments
Leave a Reply
Previous post: I-Mockery's new Blog is now up 'n running!
Next post: Madness I-Mockery's forums!