The Xbox 360 on eBay or "How idiotic can one be?"
In case you haven't heard already, the new Xbox system was released and is already sold out everywhere. And while it has games with real pretty graphics and all that jazz, there is simply no excuse for the shit that is taking place on eBay.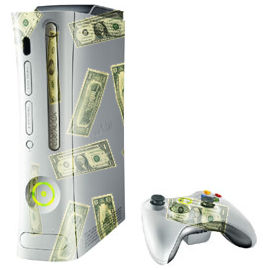 Simply put; people are spending a sickening amount of money on these systems. While the system shouldn't cost you much more than 400 bux, they're currently selling for over a thousand bux on eBay. Take a look at this auction which just ended.
$2,750.00 Who the fuck has that kind of money to throw away on a video game system. When I think of all the things I could buy with $2,750.00... well let's just say that the new Xbox wouldn't even make the list.
And what astounds me is that it's not even necessary to spend that kind of cash to get one of the systems. If you wanted one that badly, you could've camped out like plenty of other people did, or just found one of those shops that had plenty to go around as long as you got there at a decent hour. But no, you skip all that and shell out thousands extra just to buy it on eBay? Fact is, you're gonna be able to get those Xbox systems soon enough. It won't be that hard at all, really. You'll just go to a local retailer and pick up the box, pay for it at regular price, and that will be that. No camping out, no insane fees on eBay, nothing.
But hey, if you really gotta have that Xbox right now, go ahead. Go right ahead. Waste all that money and spend it on an overpriced eBay Xbox auction. I'm sure all that cash out the door is worth the 3-4 weeks of extra play you'll get before everyone else. Right?
Call me crazy, but I'd prefer to wait until all 3 of the new systems are out before deciding to buy one anyway. "But what about the parents? Surely some of them are spending extra just to make sure their kids don't cry their precious little hearts out come Christmas!" You know what? Screw those kids. No kid should get a present that costs more than 3 months of rent. That should be a new law. If they want the Xbox 360 and nothing else, just give 'em a raincheck with a nice little bow on it for Christmas. The Red Ryder BB gun is one thing, spending thousands on a video game system is something else entirely.
So what am I thankful for this Thanksgiving? I'm thankful that I'm not an impatient spendthrift fuckwad like those chumps on eBay.
63 comments
Leave a Reply
Previous post: New stuff in National Lampoon
Next post: The Greatest Dance EVER