Nothing like scraping off your car to put you in the holiday spirit
Well it snowed here the other day. As always, people here in Virginia overreacted to it by driving about 3mph on the highways even though the roads had already been salted in advance and nothing was sticking. It was definitely fun scraping off the car though. I managed to get the very last ice scraper in stock from CVS. I even saw a guy walk over to the ice scraper box shortly after and he looked pretty pissed that they were all gone. I hid mine from his view. You never can be too careful during the holiday season... shoppers attack at will. Well anyway, driving annoyances aside, the snow at least looked nice.
While I was out picking up my ice scraper, I discovered a holiday gag from an unlikely source: Matchbox. Famous for their die-cast toy cars, you wouldn't think the people at Matchbox would be looking to piss off kids, but damned if they aren't trying their hardest this year. Behold!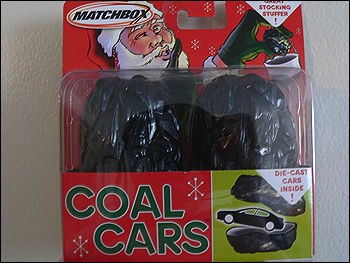 Yep, this year they're selling stocking stuffers "for kids who are naughty... from parents who are nice" in the form of Coal Cars. Simply put, the coal cars are supposed to look like a giant lump of coal, but hidden inside is a matchbox car. Yeah, that'll teach those kids for being naughty.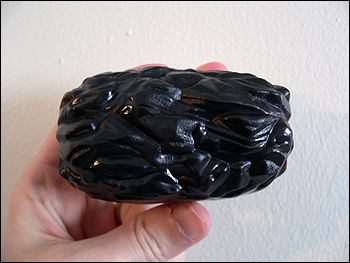 Well it definitely looks like a big lump of coal... or a raisin. Hmmm yeah, a huge friggin' raisin. Well either way, whether the naughty kid thinks it's a lump of coal or a huge raisin, the little bastard will surely feel disappointed upon his or her first look at it. I suppose we should see what toy surprise is inside...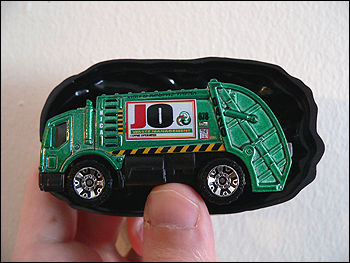 Hey! Maybe this really is a mean-spirited prank after all! What better way to get your naughty kid the message to shape up than with a dump truck toy? "You see little Johnny, if you don't shape up and start behaving, this is the kind of career you can look forward too!" Excellent.
Kudos to you for having the balls to do this, Matchbox! Kudos to you!
14 comments
Leave a Reply
Previous post: The Greatest Dance EVER
Next post: Chinese water torture you say? Pfft. I survived holiday shopping.