Chinese water torture you say? Pfft. I survived holiday shopping.
The holidays are always a crazy time for me each year. Of course, I have to do all my xmas shopping for everybody, and that usually requires going out to a bunch of overcrowded stores in mid-December. Granted, I did get a decent amount of shopping done online this year (hooray for free shipping offers!), but still there's always a few people that I just have to go find gifts for in the real world. Ah well, most of my shopping is done now, so hopefully I won't have to leave my house any more this month except for food.
The other thing in December is that it's when I was born. Yep, I'm one of those lucky individuals whose birthday is the day after xmas. I always find it amusing that whenever I tell anybody when I was born, they always react with pity. "You were born on the 26th? Damn, my condolences man. You know, if you need someone to talk to, I'm always here..." It's not quite as bad as some people make it out to be, but there is of course the combining of the gifts. Sure, it doesn't happen with everybody, but you'll still get the occasional "This gift is your xmas AND your birthday present!" Not that I'm complaining really... hell, I consider myself fortunate to get any gifts at all. And speaking of gifts, check out this watch...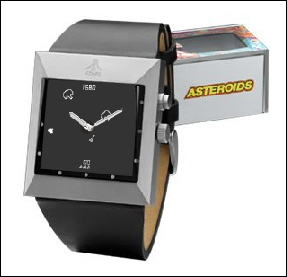 Fossil has just released several limited edition classic Atari game watches, including Asteroids, Centipede and Breakout. You can't play the games on the watches, but the animations are pretty cool and the watches themselves are nice. You can see a sample of the animations here. Reminds me of those old game watches back in the day, only these new ones aren't cheap plastic pieces of crap. That Asteroids one is going right up on my Amazon Wish List (how was that for an absolutely shameless plug, eh?).
So anyway, what do you want for xmas this year? Have any one gift you want more than anything? I would've added a private island to my wish list, but apparently Amazon.com doesn't sell private islands. That's too bad too, cuz I'm sure one of you would've bought it for me... right?
And last but not least, check out my latest minimock:
Arnold Schwarzenegger's "Jingle All the Way: Part 2!"
Hope you enjoy it!
26 comments
Previous post: Nothing like scraping off your car to put you in the holiday spirit
Next post: Secret Santa game in our message forums!