New York, New York…
So for our Christmas break, we decided to go up north to visit some family in upstate New York (I'm from NY in case I haven't mentioned it before). It was a long drive all the way up there from Richmond, but Re got me an iPod player for my car which made the trip go by real quickly. I always love leaving that thing on shuffle-mode to see what comes on next. One minute we'll be listening to a peaceful track from the Royal Tenenbaums soundtrack, the next minute it'll be playing Lamb of God. It's always amusing when the music playing goes from one extreme to another like that.
Was real glad to be able to visit my sister while I was up there, even though it was only for a short time. She's the one who got all the smart genes, so naturally she works in the medical field. Her job seems pretty crazy as she'll get paged at 4 in the morning to work on harvesting organs and tissues from the recently deceased. I couldn't even make myself wake up at 4am, let alone take a flight out into the middle of nowhere to cut up some bodies. Ah well, if you live in upstate New York and you're an organ donor and you die soon... chances are my sister will be working on you.
So after we were done hanging out in upstate New York, we went down to NYC to stay for a night. We decided to pamper ourselves for this one night and stay at a real nice hotel, check out the view we had: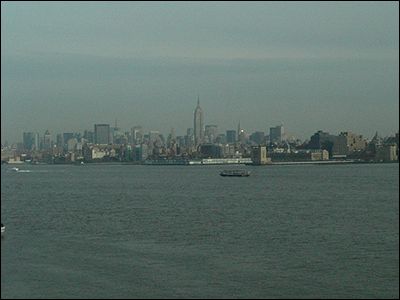 That's the actual view we had from our window.
The place was really nice 'n all, but the prices of some stuff just makes me laugh. It's like rich people have nothing better to do with their money so they'll just piss it away on things. For example, a snack pack of pretzels that would normally cost 50 cents from any regular vending machine was being sold for $2.50 at the hotel. If you wanted a bowl of corn flakes, that'd run you $5.00 (pending you didn't want to add in bananas or berries). But the most absurdly priced food item was the one that was in our room when we first arrived: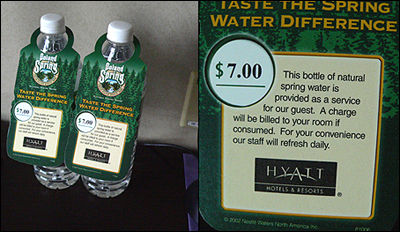 No thanks, I think I'd drink from the garden hose or the toilet before I spent SEVEN DOLLARS on a small bottle of water. And I love how they promote it like it's being provided as a "service" to their guests. Yeah, you're doing us guests a real favor. 7 bux for a bottle of water? What a deal!
Well anyway, we went walking around NYC for a while. Went to Brooklyn, Queens, and my personal favorite area... St. Mark's Place. Tons of great shops to be found in that area. I'd probably consider moving there if it didn't cost an arm and a leg (or the equivalent of a bottle of water from our hotel) to do so. After that, we went back down to Philly, which I already talked about in my previous post. All in all, a fine trip and the break from staring at my computer screen wasn't nearly long enough.
In other news... I'm sure that you've all seen the trailer for our new game by now...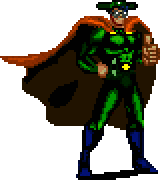 Yes indeed, PickleMan is going to be I-Mockery's next big flash game. While that trailer is just a little teaser I made (which still took an assload of time to finish, as does everything in Flash) I figured I'd shed a little bit of light on the game. First off, it's going to be huge. We want to make this one of the biggest flash games you'll ever encounter on the internet. Far bigger than the Domo-Kun's Angry Smashfest game we did a while back, which was a huge game in itself.
This time, there's three of us working on the game instead of two:
RoG
PoX
ZuG
All of us having 3-letter names... it must be destiny. o.O
The game is a long way from being finished even though we have a lot of stuff already created. I can't tell you how awesome of a job PoX is doing on the Pickleman sprites. What I can tell you is that this game is going to be fun as hell. Much like the Domo-Kun game, the PickleMan game will have plenty of nods to the games of yesteryear, loads o' humor and gobs o' violence. We'll be unveiling more about the game as the months go by including screenshots and eventually a second trailer with some footage from the actual game. We might even put out a demo at some point, but I'm not making any promises. Right now all I care about is creating the best game we possibly can.
Anyway, lemme know what you all think about the teaser trailer and the idea of a PickleMan game!
19 comments
Leave a Reply
Previous post: Vacation time…
Next post: Mario Kart DS