Mario Kart DS
So I've been playing Mario Kart DS far more than I probably should be playing it. So much in fact that I beat the entire game, including the 150cc Mirror Mode levels. I remember when I first started playing the game that those levels seemed like a dream that I'd never actually get to see, but somehow I pulled it off. Waiting for my computer to finish defragging or finishing a virus scan helps, because when it's doing that I can always get in a good number o' games.
Cool thing about the game, like many others, is that it allows you to unlock new characters and new karts if you win enough. Dry Bones is probably my favorite character to play as, because he's always clanking his bones around and doesn't make some high-shrilled yelp like some characters do whenever they pass by another kart. But one unlockable character really caught me by surprise...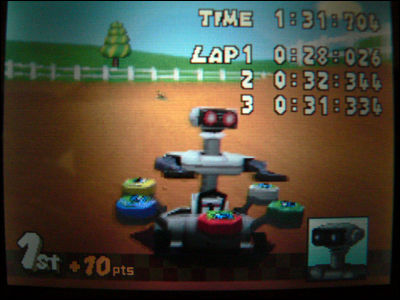 R.O.B. the Robot - the robotic controller from the original Nintendo Entertainment System! He's a really fun character to play as too since he can pretty much manhandle any of the other characters. So yeah, that's easily one of the best unlockables I've ever seen. Anyway, since I just beat the entire game, you get to see the alternate ending screen (they only show this one if you beat all of the courses with a gold medal):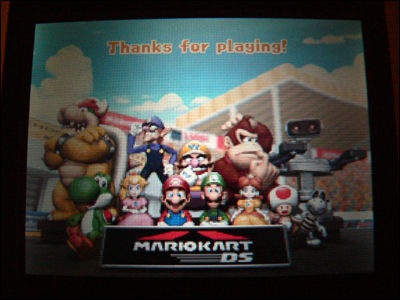 Nothing too exciting really, but it was worth playing through all that stuff just to unlock R.O.B. and all of the additional karts.
I've been playing online a bunch using the Nintendo DS WiFi connection. Do any of you have a DS? If so, be sure to post your Mario Kart DS friend codes here and I'll add you to my list. Already been playing a bunch of people from the I-Mockery forums and having a blast in those games, so I hope to see some of you in an online game too!
Here's my Mario Kart DS friend code: 352249-905076
61 comments
Leave a Reply
Previous post: New York, New York…
Next post: What the hell did they do to my Kit Kats!?