Jones Soda Valentine's Day Packs!
I guess this shouldn't come as too much of a surprise, but I can't help but be excited. Jones Soda has just announced their new 2006 Valentine's Day packs! It's not as big as their holiday packs with 5+ flavors, but it's still got some very interesting stuff in it, including Love Potion #9 flavored soda. If nothing else, I'm sure it'll help wash down the flavor of those nasty Valentine's Day Kit Kats.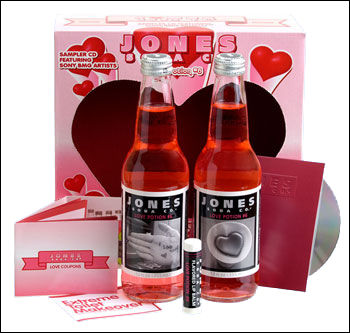 So what do you guys 'n girls think? Would you rather give/receive this new Jones Soda pack or a box of chocolates & flowers? Or, if none of the above, what else would you rather give/receive for V-Day?
And yes, you can expect an in-depth review of the Jones Soda Valentine Pack from
I-Mockery's infamous "Extreme Beverage Testers" in the very near future. In the meantime, however, check out our big Jones Soda features of the past:
-Extreme Beverage Testers vs. Jones Soda's 2005 Halloween Sodas!
-Extreme Beverage Testers vs. Jones Soda's 2005 Regional & National Holiday Packs!
15 comments
Leave a Reply
Previous post: What the hell did they do to my Kit Kats!?
Next post: The Chicken Dance (for "Arrested Development" fans)