The Chicken Dance (for "Arrested Development" fans)
So at a recent party, we talked our friends Jason (Protoclown) and Macon into doing the chicken dance (one of the few dances that rivals the coveted "Carlton Dance"). Now for those of you not in the know, the chicken dance I'm speaking of comes from the show "Arrested Development" (you know, one of the many good shows the Fox network has been insane enough to want to cancel over the years). Anyway, the character "Gob" performs this dance any time he wants to mock somebody for being afraid of something. Gob is also a magician who always comes out on stage to the sounds of "The Final Countdown" by the band Europe. Quite the spectacle I assure you. Well, someone at the party happened to get some video footage (thanks Scott) of the two of them doing this chicken dance and I decided to combine it with that song. And now, I pass this footage onto you.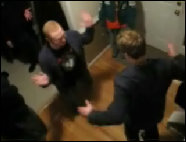 Click here to view the Chicken Dance footage!
Keep in mind the video is from a digital photo camera, so there wasn't much footage to work with at all. Also keep in mind that I've never edited video footage in my life, but I just picked up some great software (Sony Vegas) and am starting to learn it bit by bit. And when I say "learn it" I mean "fiddle around with all the commands until something works or something breaks, but whatever you do, do not read the instructions!" Hope you enjoy the looped footage with excessive use of cheezy filters! Hollywood, here I come!
And on an unrelated note, the new Extreme Beverage Testers vs. The 2006 Jones Soda Valentine Pack article is now up, so be sure to check it out!
15 comments
Leave a Reply
Previous post: Jones Soda Valentine's Day Packs!
Next post: One of my favorite photos…