Thanks for nothing, eBay
I've always loved eBay. There's all sorts of things I've won on there that I wouldn't have a chance in hell of finding anywhere else on this earth. But today they did something so asinine I can't even believe it. They removed the now infamous "Cadbury Nipple Egg auction" from their site! It had already received almost 11,000 views (which is a lot for a regular ol' auction) and the bidding was currently just over $107. In the auction, I stated that all of the proceeds would be going to the St. Jude's Research Hospital for Children. And that wasn't some scam or anything, that was just the plain truth. My pals over at Newgrounds were also going to match whatever I donated up to $1000 bux!
But guess what? The auction policing fuckwads over at eBay decided to remove the auction because they don't want people saying an auction is going to charity unless it's to one of their approved charities via MissionFish. And if you don't want to use one of their MissionFish charities? Check this horse shit out:
Non-MissionFish listings

1. Sellers may only list items on behalf of a charity if the charity has provided advance written consent for the solicitation. To prove that you have obtained that consent, you must include a scanned copy of the consent in the listing.
So basically, they're making it harder for a person to donate money to a charity of their own choice. Like I'm going to write a letter to St. Jude's and say, "Hey, I'm selling this nipple egg to raise money for the kids you're trying to help save. Would you mind, pending the auction is successful, if I give you all the money?" YO EBAY! IT'S A FUCKING CHARITY! THEY NEED MONEY! YOU DON'T NEED WRITTEN CONSENT!
I shouldn't have to register with MissionFish just to include that in my auction either, but I would have if eBay simply sent me an email and requested that I signup with them. But no, they just deleted the auction without any warning, and thus the money we could have raised was rendered null and void.
I'd relist the auction on there without any mention of donating the proceeds to St. Jude's, but honestly, I think half the reason the auction made it to $107 bux is because it mentions that the proceeds would be going to that good charity. Then again, it IS the one and only Nipple Egg... a priceless treasure indeed. Anybody have any other ideas for alternatives?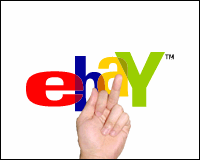 Thanks for nothing, eBay
39 comments
Leave a Reply
Previous post: And then God made the nipple… on a Cadbury Mini Egg.
Next post: The ART of GWAR!