The ART of GWAR!
As if my trip to Los Angeles didn't provide me with enough memorable sights, I got to check out the artwork of GWAR in a local art gallery recently. You know, it's kind of weird, I've been to a lot of GWAR-related events, but I've yet to attend a GWAR show for some reason. I've been to two different GWAR yard sales (I bought their Colecovision, which did have some blood splatters on it). I've been to a mexican wrestling match where Oderus and Beefcake kicked the crap out of everybody. And last but not least, I've been to this art gallery showing: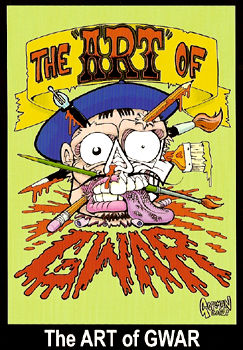 Don't feel left out though, I brought my camera along and took some nifty pics of all their crazy shit. Check out my gallery of GWAR art pics here!
In unrelated news, my big Wal-Mart web site parody that I did for CRACKED is finally online. I wanted it to look exactly like the Wal-Mart site, so it took quite a few days to finish, but I'm real happy with how it turned out. Lemme know what you guys think!
On a final note, have any of you been watching VH1's new "I Love Toys" show? It's basically a top 100 toys of all time countdown with the same comedians who appear on their "Best Week Ever" and "I Love the 80's" shows. The show has been pretty amusing so far (my old favorites "Moss Man and Stinkor" made an appearance), but damnit, I swear should be one of the people on the show. There's so much they've missed. For example, "Dominos" was one of the toys in the top 100, yet no mention of "Domino Rally"? Come on, there's just no excuse for that. Then they talked about the Rubik's Cube, but didn't mention the infinitely cooler "Rubik's Rings"? See how much they need me for this show? Well, maybe if they do a "I Love Toys: Part Deux" they'll gimme a buzz. Better yet, how about you guys write VH1 and tell 'em to put me on their next "I Love Toys" show. Because... you know... producers treat anonymous emails from humor site fans with great respect.
17 comments
Leave a Reply
Previous post: Thanks for nothing, eBay
Next post: Sci-Fi Movie Geek Battle!