NO WAY! IT WAS ALL A JOKE!?!?!?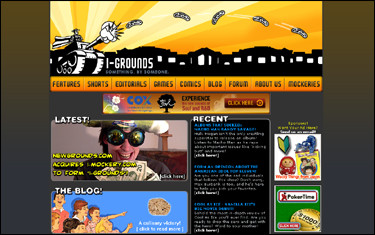 Yes, the whole big thing about Newgrounds.com acquiring I-Mockery.com and turning it into "I-Grounds" was just a big April Fool's joke. Just for the record, I didn't expect to fool anybody with this gag. I mean, it did take place on April 1st, and it happened on an internet humor site... that right there should clue pretty much everybody in on the fact that it was a prank. But still, I got a ton of emails from people all freaked out about the acquisition. What was more amusing was how some people really started to wonder if it was true when I left the gag up all day on Sunday too. It's funny how an extra 24 hours can set some people into panic mode. So again, I-Mockery isn't changing (not that us being owned by NG would be bad or anything, but there's no way I-Mockery could ever be a "portal" humor site where any random person could login and submit their own humorous articles).
For those of you who missed it, the April Fool's gag will forever be located at this URL:
http://www.i-mockery.com/default-ng.php
And of course you can see the announcement page here:
http://www.i-mockery.com/igrounds.php
While we're on the subject though, I'd like to thank some of the other people who helped out with my April Fool's prank. First off, I gotta thank good ol' Pox for helping out by drawing PickleMan into the Newgrounds Tank logo and making it shoot out the pickles across the screen. Secondly, I gotta thank my pals Stamper and Tom Fulp over at Newgrounds for going along with the prank and helping make it seem slightly more realistic by making a news post about it.
And last but not least, I'd like to thank you guys:
1) Thanks to those of you who thought you were super clever for figuring out this act of chicanery. You guys should become detectives! o.O
2) Thanks to those of you who somehow managed to fall for this seemingly obvious gag. I needed some hearty chuckles and you delivered them, at your own expense!
Alright, that's all for now. I now return you to the same old I-Mockery. You know, the one you love to hate... or hate to love... or the one you wish was a sandwich. Mmmm.
UPDATE: Why am I not surprised that someone would immediately try to cash in on this highly publicized gag by purchasing the "I-Grounds" domain name and putting it up on eBay: http://cgi.ebay.co.uk/ws/eBayISAPI.dll?ViewItem&item=7606597736.
Good times...
23 comments
Leave a Reply
Previous post: Newgrounds acquires I-Mockery!
Next post: Dictionary.com's word of the day…