Our latest trip to the Virginia Science Museum
If you've ever been to Richmond before, chances are you visited the Virginia Science Museum as it's one of of the... maybe five things to do in this pseudo-city. We've already attended a few of their Halloween exhibits such as the entertaining Grossology exhibit and the far less impressive Bones exhibit. So we're always on the lookout for their latest attractions, whether it's another fun exhibit or a new movie showing in their I-Max theater.
Well, last month we found out there was going to be a big Video Game exhibit at the Science Museum - complete with game competitions and a room filled with classic games. Could there possibly be a better way to spend a Saturday than getting to check out a ton of classic arcade games and maybe compete against some people? In another state, sure, but in Richmond... this seemed like a virtual godsend. So we all jumped in the car and headed on over to the Virginia Science Museum for a day of gaming goodness.
Upon our arrival, we couldn't really see much gaming-related stuff going on... but they assured us there was plenty, so we paid the 12 bux for our tickets and went in. The first thing on my list was to find the classic games arcade room... I mean, this was basically the whole reason I came to the museum. So they point me over to this little room in the corner, and I was instantly confused because I didn't hear a roar of bleeps and bloops coming from that direction. Do you know why I didn't hear the roar of those wonderful sounds? Because this is what the "classic arcade room" looked like: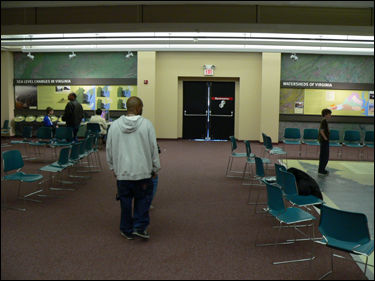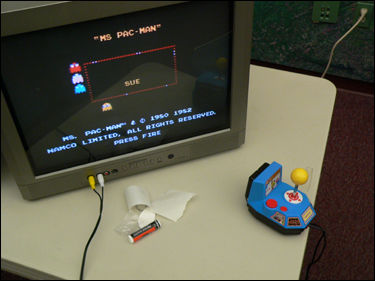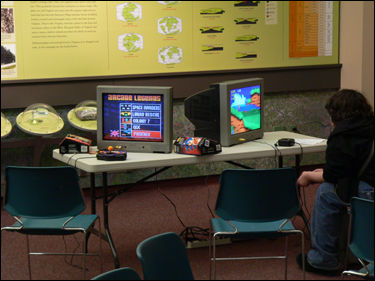 So the classic video game arcade was nothing more than a few TVs with those cheap-assed battery-powered plug-n-play video games hooked up to them? That's it!?!? Yes my friends, we had been officially ripped off. Hell, for the price of admission I could have bought one of those plug-n-play video games for myself! Gah! I love how they had a hundred chairs setup in that room too, as if those few shitty TV games were going to draw in a huge crowd.
We then made our way through the rest of the museum in search of the gaming competitions that were going on. Again, it was cheap as hell... no real arcade machines whatsoever. They had a room filled with people watching two guys play a football game on the Xbox. That was the big competition and I had to keep reminding myself, "You paid to see this Roger, YOU PAID TO SEE THIS!"
Well, aside from the huge let-down that was the so-called video game exhibit, the trip wasn't a total bust because two good things happened: 1) I got to ride on one of those Segway scooter thingamabobs that they were demonstrating. Yes they're overpriced as hell, but damned if they aren't fun. and 2) I filmed my friend Scott messing around with one of the marble water balls outside the museum. So lucky you, you get to see this amazing video footage:
33 comments
Leave a Reply
Previous post: Dictionary.com's word of the day…
Next post: StagKnight? What's StagKnight?