Why yes Cthulhu, I would like a pizza!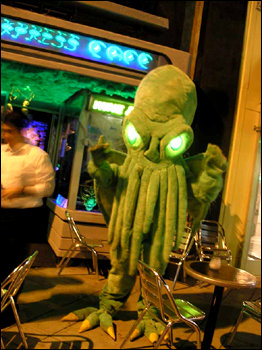 Last week, I went to the Nova Express Cafe with some friends after hearing about how the food was really good and there were enough decorations to keep you distracted for hours. Sure enough, the decorations did not disappoint - planetary designs highlighted by blacklights all over the place, a variety of tables (some with electric candles, some with a glowing orb in the center), Cthulhu himself, bizarre b-movies playing on a projection screen, an impressive toy collection, and let's not forget the giant picture of everything which I found myself staring at for way too long. Howard Hallis, the artist, is actually selling prints of it for a limited time... I'm considering buying one, but I fear it will distract me for hours at a time from getting any work done.
Not much else to report at the moment; I've just been going to meetings at various cool companies here in L.A. and, of course, I'm also still trying to find a new place to live. It's funny, you never truly realize how much you need all of your stuff until 90% of it is in storage. The other day I felt like taking a break from writing and I thought to myself, "I'm gonna go play some guitar for a while!" which is something I always like to do to unwind. And then I remembered that my guitar & amp are currently in storage.
On the plus side, having practically nothing in my apartment has made me venture out and see much more of this city than anyone in their right mind would've seen in such a short period of time.
Last but not least, be sure you check out the huge 18-page wrap-up of our cross country trip! It took me a while to put all the photos together, but I'm finally done. Photos from days 1-4 are already up, and days 5-9 will be up later this week! I-Mockery's Great American Road Trip!
15 comments
Leave a Reply
Previous post: Ninjas, monsters, and 8-bit rock!
Next post: I think I'll pass on that place…