Gymkata is karate-kicking it's way through DVD Decision 2006!
I'm happy to report that it looks as though our voices have been heard, for Gymkata has been in the lead of Amazon's DVD Decision 2006 for the past week. It just got bumped down to #2, but as long as it stays in the top 10, it WILL be released on DVD! The decision isn't over until the end of June though, so if you haven't voted yet, please click here and vote for Gymkata to help ensure our victory!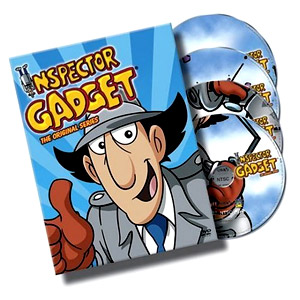 Also, I just wanted to give you a reminder that we're currently holding a big Inspector Gadget giveaway contest for the new 4-disc DVD set that contains the first 22 episodes of the original show! All you have to do for a chance to win it is to come up with a handy new gadget for the Inspector to use. And best of all, you don't need to be an artist to do it. In case you're unable to draw him from scratch, we've included some graphics of Inspector Gadget that you can put your new gadget on top of. The contest ends on July 15th, so get those entries in! (and yes, you can enter as many times as you like)
Before I go, I gotta share some PickleMan pics that Brendan Quantick just sent me: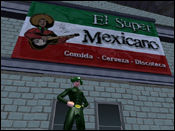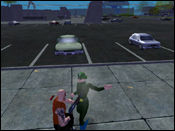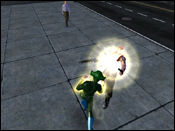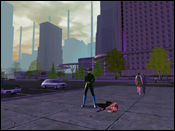 (click any of the pics to enlarge)
Brendan created PickleMan using the City of Heroes engine and character creator. Pretty spiffy eh? Even though he was unable to replicate the cape, I particularly like how he used the pirate hat to make the pickle hat. Too bad it's not some kind of downloadable skin that everybody who owns the game can use it. If you know of a way to do this, however, by all means let me know!
By the way, keep an eye on the site early next week... there's a surprise piece going up online that I'm sure none of you would've expected! Are you scared yet?
21 comments
Leave a Reply
Previous post: I think I'll pass on that place…
Next post: Don't fear the reaper, fear the pickle?