Blue Milk of Super Ilk
Having already tasted my fair share of Superman Returns treats, and receiving email suggestions from a bunch o' people, I broke down and bought a box of Cap'n Crunch's Limited Edition Superman Crunch. The only difference about it is that it comes with Superman shield emblems instead of the usual crunch berries. Here's the kicker though, the red shields turn your milk blue. SCIENCE!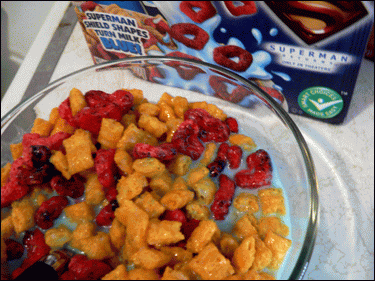 As you can see, it's not the brightest blue out there, but it still gets the job done. Most importantly, however, it tastes as good as ever. I do have one question though, have they changed Cap'n Crunch over the years? I used to remember this stuff literally shredding the roof of my mouth after eating it. Granted it's been a good while since I've had the stuff, but it didn't even break the skin this time. Have they made Cap'n Crunch less destructive? I'm not sure if I should be happy or sad about it. On one hand, I'm glad my mouth isn't in pain. On the other, I always kind of liked that you had to endure the cereal. That was the trade-off for enjoying something so tasty. Well, I'll eat a couple handfuls of the cereal without any milk later on and see if that does the trick. Guess that makes me a cereal sadist.
And while we're on the topic of cereal, I just stumbled onto an old photo of me forcing McClain to eat a bowl of Boo Berry cereal: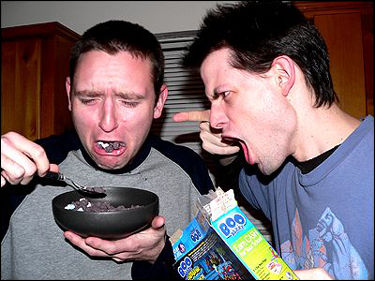 One of my favorite photos for sure.
update: On another breakfast-related note, PickleMan's Breakfast Battle is now online!
23 comments
Leave a Reply
Previous post: The Sony PSP ad controversy
Next post: Celebrity sighting?