What have they done to my Pogo Ball?
I was at a Target store the other day and, of course, one of my required stops any time I go there is the toy aisles. As I'm walking up and down the aisles looking at all the latest toys (most of which are movie tie-ins for Superman Returns or Pirates of the Caribbean: Dead Man's Chest) I notice something on one of the end caps...
Pogo Ball!
It was cool to see a Pogo Ball, since I didn't know they even made 'em anymore, and that it hadn't changed at all really. In all honesty, I prefer the a pogo stick and I'll challenge any of you bastards to last longer on one than I can. I can even last longer than the little girl on the pogo stick in Tremors.
Anyway, when I got back home I check around the web a bit for info on Pogo Balls. Why? Because this is the sort of shit that entertains me, don't ask me why. So, during my search I come across a newer version of the Pogo Ball...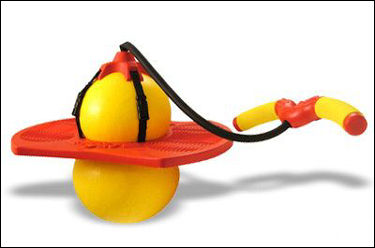 The Zoingo Boingo.
What bastardization of a childhood memory is this? It looks like someone put a strap around the Pogo Ball for some twisted bouncy S&M pogo action. Maybe I'm a just a purist, but I always liked how the original Pogo Ball wasn't easy to use. You actually had to practice it to be able to do anything remotely cool and this new "Zoingo Boingo" pogo-ball-horror contraption appears to take all that out.
Know your Pogo Ball roots.
27 comments
Leave a Reply
Previous post: Celebrity sighting?
Next post: Headed to the Comic-Con tonight!