Headed to the Comic-Con tonight!
Tonight we'll be heading down to San Diego for the 2006 Comic-Con. I'll be roaming the floors on Saturday and Sunday to check out the latest in movies, video games, toys, art and comics! Sadly, I won't have much I-Mockery stuff on me this year because of the move to California and a complete lack of time to plan for the convention. I won't even be wearing the Pickle Hat, so it'll be harder for people to find me. Sure, I'll have a black I-Mockery logo shirt on, but there's more black shirts at the Comic-Con than there are grains of sand on Earth. So yeah, if you're going, good luck finding me. If you do, though, I'll hopefully have some stickers and buttons to give ya at least.
Speaking of finding me, an I-Mockery reader said they saw me driving with Re on Sunset Boulevard the other day. Pretty crazy considering it's such a huge city (and it's not like I was wearing the Pickle Hat).
So anyway, what stuff should I definitely check out at the 'con on Saturday and Sunday? Anything super-awesome that I should be aware of? Also, next year, I'm hoping to get a booth for I-Mockery since I'm sure I'll have plenty o' time to plan for it. I like thinking about all the crazy stuff we'd have going on at the booth... seems like it could be a lot o' fun.
EDIT: For those of you attending the Comic-Con this year, be sure to stop by the Young American Comics booth. They'll be selling copies of the newest "Big Ol' Book of BIZMAR" and yours truly has a comic in it that I did with Re. It's a fun book with some great artists who all contributed their own comics - over 75 stories combining Bunnies, Insects, Zombies, Monkeys, Aliens and Robots.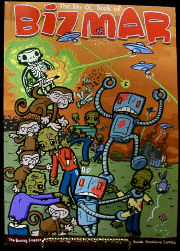 How can you go wrong with that?
EDIT #2: Also be sure to stop by the Behemoh's booth. Not only will they be showing their awesometacular upcoming "Castle Crashers" game, but the Newgrounds sketchbook will be there for anybody who wants to read through it. And once again, yours truly made a contribution to it which you'll get to see.




2D lives on with Castle Crashers!
18 comments
Leave a Reply
Previous post: What have they done to my Pogo Ball?
Next post: Ren & Stimpy - The Lost Episodes!