While I'm not going to be at the 2006 San Diego Comic-Con for all four days like I was last year, I'll definitely be there for a day or two still... most likely Saturday and Sunday. I'm really looking forward to it. San Diego is a really nice city, the cleanest I've ever seen, and the Comic-Con was a blast last year. It doesn't get much better than going there and seeing all of the upcoming movies, toys and video games. Plus I really want to see the rumored life-sized Optimus Prime truck unveiling. What is disappointing, is that due to the timing of my recent move and still having almost all of my belongings in storage, I won't have a table at the convention this year like I had hoped to do originally. Even the ol' pickle hat & goggles are in storage at the moment. Ah well, I've got some fun things I'd like to do there, so hopefully next year there will finally be table for I-Mockery at the Comic-Con. Are any of you planning on attending the convention this year? Anything I should make a point to check out while I'm at the convention or in San Diego in general?
Also, for those of you who haven't filled it out yet, please take this quick survey. We're planning making some huge changes to the site this year and want to hear what you guys would like to see. Don't worry, all your favorite content will still be there, these changes will simply make the site better than ever. So consider this your chance to help change the future of I-Mockery o.O
And just a reminder, time is running out for the Inspector Gadget contest. The prizes are still up for grabs for anyone who wants to draw or photoshop a new gadget onto him, so give it a shot!

Why are you here on I-Mockery? Today is the day you can be outside blowing things up and it's perfectly legal! Set those fireworks and firecrackers on fire and let 'em burn your neighborhood down all in the name of "America". I'm pretty sure it's even legal to run around in the streets today with a bottle of tequila while shooting your pistolas in the air. I think it's also legal to murder someone with a pickaxe today, just as long as you sing the "star-spangled banner" while doing it. In fact, if I'm not mistaken, today you guys can even bring cocaine into the country as long as you explain to the border patrol that you thought, "the red, white and blue needed a little bit more 'white' so I thought I'd help out!"
Again, this deal is null and void come July 5th, so get crackin! VIVA LA CHAOS!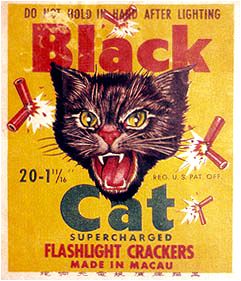 The Underappreciated Artwork of Firecracker Labels