Let the ground run red with the blood of Boy Scouts!
Wanted to post a plug here real quick for my pals over at Stagknight who just unveiled their new flash game: Staggy The Boyscout Slayer 2. If you played the original version of the game and had fun hacking up the helpless boyscouts like I did, then you'll surely get a kick out of the sequel. In this version there's levels and you can buy weapons and health so your game will last must longer. Plus the most powerful weapon in the game is a laser sword (*cough*lightsaber*cough*) and man does it cut through those boy scouts like buttah.
For those of you that are really good at the game, you might get a chance to win their big contest in which you'll get to go on a dinner date with the leading lady, Jocelyn Osorio, and a private screening of the movie in London with the director, Simon Cathcart. But even if you don't give a shit about those prizes, still play the game cuz it's fun. And if you don't believe me, perhaps this will convince you: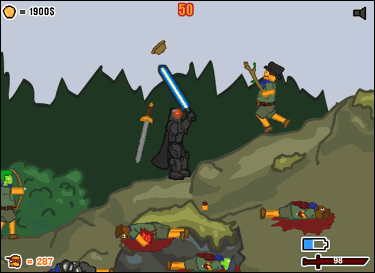 Farthest I've made it so far was level 12 with 800 kills. It gets pretty damned hard by that point, so if you have any strategies you'd like to share with me I'm all ears.
They've also redesigned their entire web site with an amusing interactive menu system in which you can throw a variety of weapons at silhouettes to access the different features. Be sure to check it out cuz there's all sorts o' new updates and photos from the movie. As you probably recall from some o' my prior posts, I-Mockery (and our chums from Newgrounds too!) will be making some web-browsing cameos in the movie. Hmm, I wonder if a web site can get a listing on IMDB. Can a web site get a big-time Hollywood agent? If so, I wonder if a web site can land a role in a huge blockbuster movie. What do you guys think? Would you rather see Samuel Jackson star in the sequel to Snakes on a Plane, or would you prefer to see a completely inanimate screenshot of this web site fighting the snakes instead? I know, I know... it's a tough call.
Oh and one last reminder, keep on sending in those RAINBOW PUKES! You'll be glad you did! The ones that I received via email so far have been fantastic and I can't wait to show 'em to you all.
7 comments
Leave a Reply
Previous post: Big Trouble in Little Tokyo
Next post: Snakes, planes & automobiles.