The Ultimate Guide to the Hallloween Candies of 2006!
It's finally up! I told you guys last Saturday that I had a big article coming up this week and it's now up. I-Mockery's Ultimate Guide to the Halloween Candies of 2006! For the past several weeks, I've been going to all sorts of Halloween shops and general stores in search of as many different Halloween candies as I could find. The end result? I've reviewed over 30 different candy varieties for the 2006 Halloween season! I'm really excited about this piece because 1) it's fun to finally show it to all of you and 2) I'm still on a sugar high from eating all that candy which will most likely keep me hyper until Halloween '07. Lemme know what you think. Hope you all enjoy it!
In other news, does anybody have a million dollars I can borrow? As you know, I recently moved to Los Angeles, and while I did just get a new place... I would gladly trade it for this house that just went up on the market: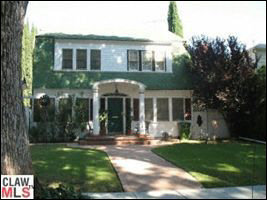 Sure, it might look like an ordinary house at first, but if you look a bit closer, you'll realize it's the house from A Nightmare on Elm Street. Freddy Krueger's home! I can't even begin to imagine how much fun Halloween would be each year if I lived there. So yeah, I know there's a sugar daddy out there somewhere wanting to give me a million bux to buy that place. I'll be waiting by the phone for your call.
Speaking of stuff related to horror movies, as you may or may not know, I consider the Phantasm series to be in the upper echelon of great horror movies. The Tall Man, played by Angus Scrimm, is easily one of the scariest and most entertaining horror icons you'll ever come across in a film. Other characters such as Reggie will always give you some good chuckles. And who can forget the sentinel spheres - those killer silver balls that keep on attacking until you're dead. Well, something that's bothered me for a while now is that there has never been a box set released here in the states for the series. Even worse, my favorite movie from the series (part 2) has been out of print for quite some time. And then I see that people in the UK get this: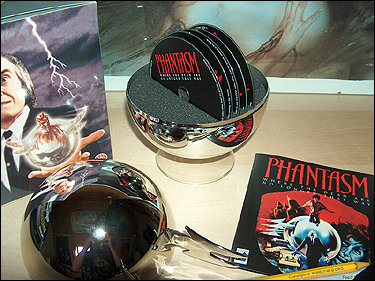 A DVD set of the entire series that comes in a big killer Sentinel Sphere? You have got to be shitting me. That's pretty much the greatest novelty DVD set design I've ever seen. Believe me, I LOVE my two squishy Evil Dead "Book of the Dead" DVD cases (especially the one that screams when you poke it in the eye) but they don't hold a candle to this set. If this set doesn't get released this set in the United States, I might have to talk to Angus to see if he'll lend me a few of his killer spheres to take with me to Anchor Bay Entertainment's headquarters.
You can help show your support for getting the Phantasm Sentinel Sphere DVD set released in the States: Email Anchor Bay about it!
32 comments
Leave a Reply
Previous post: Boo Berry is back!
Next post: Fear Factor Pop-Ups!