Fear Factor Pop-Ups!
So I was at the grocery store earlier today and about to grab a box of the always delicious Firecracker popsicles when I noticed something new on the next shelf over. Something Halloweeny...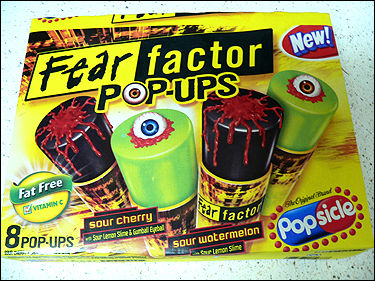 Why do the designs on the Popsicle brand boxes always make the treats so ridiculously shiny and tasty? Oh yeah, because it gets people to buy them. People like me. A push-up pop with blood on it and a push-up pop with a bloody eyeball on it? How could I not try these bad boys out? You would've done the same thing... and even after you see how the popsicles actually look, I'm sure you'll still buy them just because the box makes them appear so good.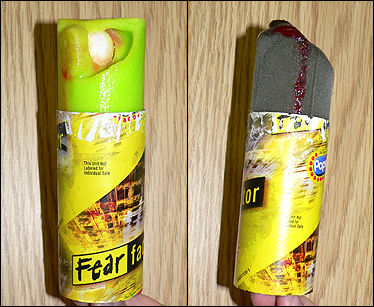 They kinda lose their luster, eh? Yeah, well I guess it shouldn't be that big of a surprise. Still, it would've been nice if they were at least close to what they looked like on the box. The watermelon one that was supposed to be covered in blood just had a tiny red streak running down the side. The eyeball in the sour cherry one was buried halfway inside the pop, and it looked like a white gumball with no eye-ish traits whatsoever at first glance.
Looks aside, I can say that these popsicles were far tastier than the Fear Factor candies. They're really not all that sour, and the cherry one was pretty damned good even though the gumball didn't fair too well.
In other news, I've got another week filled with more Halloweenish goodies in store for you guys, the first of which is already up. It involves a different kind of treat - a Halloween Cookie House to be exact. Take a look to see how it turned out and lemme know what ya think!
18 comments
Leave a Reply
Previous post: The Ultimate Guide to the Hallloween Candies of 2006!
Next post: Halloween-themed snack "surprizes" going online?