Halloween-themed snack "surprizes" going online?
It appears as though more and more snack companies are providing online games for us to play, rather than including extra toys or stickers with their products come Halloween each year. While I can appreciate the work that goes into some of these games, I still think they're doing it so they don't have to include a tangible spooky surprise with their products. Two examples of this are with the Halloween M&M's and Go-Gurt.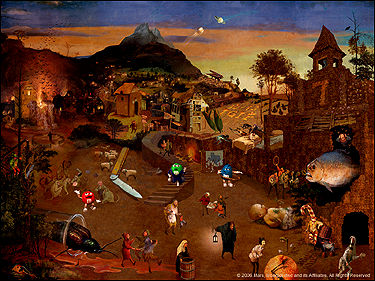 M&M's have recently put up a flash game site that ties in with their dark chocolate candies. The object of the game is to go through the painting and find the 50 horror movies that are referenced in it. Some of them are pretty easy right off the bat, others are fairly tricky. Then there's ones that will make you shout out, "SON OF A BITCH! HOW DID I NOT GET THAT ONE!?" Keep in mind, not all the movies are ones that you and I would consider "horror" movies. All in all, it's actually a really nicely done game and I like the artwork a lot. I wish they credited the artist somewhere on the site because I'd like to know who did it. Anybody know? Some of the I-Mockery forum members were scratching their heads over the answers, so if you get stuck while playing, maybe they can help ya out. And yes, the game does let you save your progress so you can come back to answer the rest later if you don't feel like doing all 50 at once. Lemme know how many answers have you been able to figure out!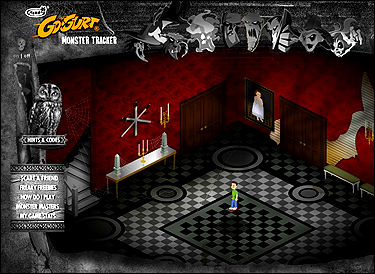 The Go-Gurt Monster Tracker game appears to be more in-depth, and buying the product can actually help you advance in it. Nice way to promote sales, no doubt. With specially marked packages of Go-Gurt, once you're done slurping down the 'gurt, you'll see that inside the tube is a Monster Tracker hint. You can then use that "tube tip" to help locate the monsters in the flash game so you can capture them all. Again, I just started messing around with the game so I can't say what kind of pay-off (if any) there is for capturing all the monsters. So far, the game seems like a more basic version of an adventure / role-playing game.
So what do you guys think, would you rather have free toy surprises 'n what not included with your Halloween-themed snacks or do you prefer the online games like this? Obviously having "both" would be best, but let's assume that's not gonna happen. If you could have one or the other, what would you choose?
Also, if you've seen any other online Halloween snack product game tie-ins like this lemme know!
19 comments
Leave a Reply
Previous post: Fear Factor Pop-Ups!
Next post: Slimer stops by to say "Hello!" - plus some Cannibal Meat Market body parts!