The Horrors of Pinball!
I realized the other day that something I don't talk about enough on here is pinball. Sure, I've gone on an on about video games both old and new, but what about pinball? Pinball is like the adopted son; the parents love him 'n all, just not as much as their real offspring, the video game. Well, with Halloween right around the corner, I got to thinking about pinball because some of my favorite machines have been horror-themed. Two games in particular have always been favorites of mine...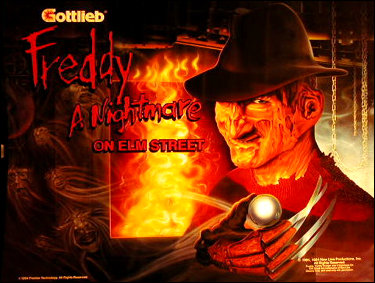 "Freddy: A Nightmare on Elm Street" is easily one of my favorite horror-themed pinball machine designs. There's just so much going on in it that it's impossible not to love. On top of it all, Freddy talks shit to you with his usually array of cheesy one-liners while you play. What more could you ask for?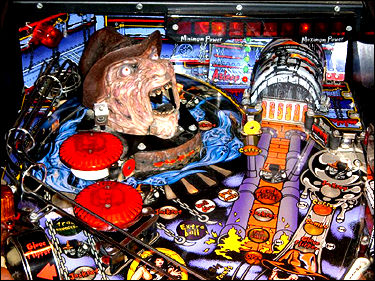 I'll admit, I was never really good at this particular pinball game - probably because there were so many flashy distractions on the playfield that it was hard to keep track of where you hit the ball. The game itself is great though, featuring both "awake" and "nightmare" modes. During the nightmare modes, you'd have to keep track of multiple balls while you tried knocking them into the boiler room. Some of the best features included an animated Freddy head (which glowed while it chomped) and a Freddy glove flipper that you could actually use to flip the ball off the ramp. Unfortunately, I haven't seen this pinball machine in an arcade in a looooong time.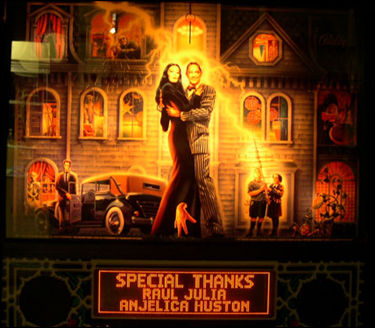 "The Addams Family" pin ball machine, while not nearly as flashy as the Freddy one, is easily my all-time favorite pinball game. I don't know how, but they somehow made this machine have the perfect balance of cool features without too many distractions so you can have some long games. Don't get me wrong, it's still quite a challenge; just not to the extent that it's impossible to last a few minutes on one quarter. It's not a surprise that this machine is in the top 10 of most people's "greatest pinball machines ever" lists.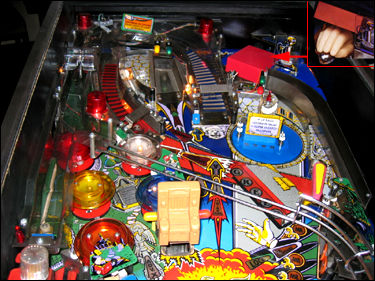 Without a doubt, my favorite thing about this machine was... well... Thing! Thing would actually hide inside a red box and if your ball got close enough to it, he would pop out and steal it. One of my rules for playing the game was that I couldn't stop until I saw Thing steal the ball at least once. Other highlights included the electric chair, the train wreck and the ball getting stuck between 5 bumpers and going absolutely friggin' berserk! I also gotta say the soundtrack and sound effects with this machine were top notch - really loud speakers which helped bring you deeper into the kooky world of the Addams Family. While it's not as hard to find one of these machines as the Freddy one, they do seem to be vanishing from more and more arcades. So if your nearby arcade happens to have the machine, make sure you get in a few games before it's too late!
Some other notable horror pinball machines are the "Twilight Zone," "Elvira and the Party Monsters" (which, I swear I'm not making this up, actually had those little plastic finger puppet monster party favors as features IN the game), "Monster Bash" (hands down, one of the most colorful Pinball machines you'll ever see) and the "Creature from the Black Lagoon" (which had a badass hologram of the creature in the center of the playfield).
Speaking of the Creature from the Black Lagoon and other monsters, I just put up my huge tribute to The Monster Squad - one of my favorite 80's flicks. Check it out and let me know what ya think! Also, for some insane reason, it's not out on DVD - but just like with Gymkata, I'm hoping we can help change that. At the end of my article, you'll find the contact info for Sony/Tri-Star so you can send them a letter and tell them to release it! Please take the time to send them a letter so maybe everybody can one day see Horace kick Wolfman straight in the nards!
Survey: So what are some your favorite pinball machines? And no, you don't have to only list horror-themed ones, although you should because it's October and the monsters living in your closet will be really pissed at you if you don't.
37 comments
Leave a Reply
Previous post: Zombabies and a Crawling Brain!
Next post: Topps Halloween Cards!