Topps Halloween Cards!
I was sorting through some old files tonight and I stumbled on this image I had saved a while ago. Does anybody remember these Topps cards?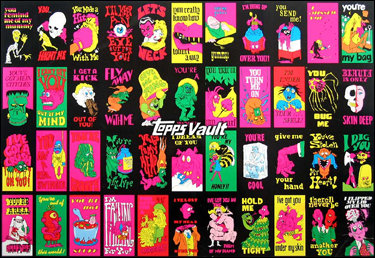 Click to enlarge
I'm not sure what series they were from, but if I had known about them when I was younger, I guarantee you everybody would've gotten these on a) Halloween and b) Valentine's Day. Whatever they are, I definitely need to get my hands on a full set of these.
Also, my big photo gallery from the trip to Knott's Berry/Scary Farm's 2006 Haunt is now online. Take a look and lemme know whatcha think!
Another survey: Describe your best and worst Halloweens ever. What was so good about them? What was so awful? Let's hear all the juicy details.
23 comments
Leave a Reply
Previous post: The Horrors of Pinball!
Next post: Bravo TV's "Even Scarier Moments"