Holiday M&M's, Root Beer Kegs and I-Mockery's movie cameo
I think I'm officially into the holiday season now. All it ever takes is a few trips to the stores (which are now totally decked out with Xmas stuff) and my annual tradition of watching "Planes, Trains and Automobiles" around this time of year to get me into it all. Sure, it's not as cool as Halloween, but that doesn't mean there's not plenty o' stuff to have fun with, and I'll be damned if there aren't just as many new candies that come out during the holiday season each year as there are come Halloween. Of the few new holiday candies I've tried out so far my favorite would have to be these...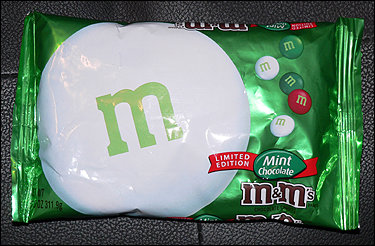 Yes indeed, all the goodness of M&M's combined with a tasty mint flavor. How can you go wrong with that? Let's hope that these new mint chocolate M&M's aren't going to be a "limited edition" like the bag states. I'd definitely like to see them be a year-round flavor. While they really are good, I must warn you... don't try scarfing down a ton of these at once. You may be able to eat a full bag of regular M&M's no problemo, but you can only eat but so many of these mint chocolate ones before they start to make you feel nauseas. But hey, at least that means each bag is gonna last you a lot longer. And if mint isn't your thing, there's still the usual assortment of M&M's out there and the bags are all decked out for the holidays. The dark chocolate flavored M&M's are also a lot easier to find this time of year, andif you haven't had them, I definitely suggest picking up a bag cuz they're damned good too.
And for those of you who don't get excited by new candies, perhaps this will interest ya...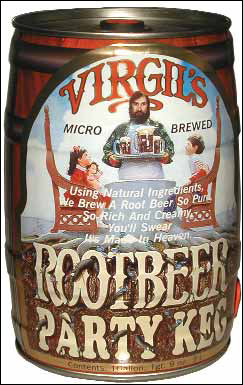 Virgil's Root Beer Party Keg! This was at my local grocery store mixed in with all of the other Xmas treats. I'm honestly not even sure if it's intended to be a holiday item or not, but it does kinda look like the mighty Virgil has emerged from the North Pole to bring the kids some frothy mugs of his finest root beer! And when the kids drink his hearty beverage, they too will be able to grow the same impressive facial hair! Virgil is a holiday hero! Damnit, now I need a picture of Virgil serving up that fine root beer on a t-shirt. From what I hear, this is actually some of the best tasting root beer out there and I look forward to cracking open this bad boy. Sure, it's almost 20 bux... but who can pass up on owning an entire KEG of this stuff? Michael J. Fox couldn't, and neither can I.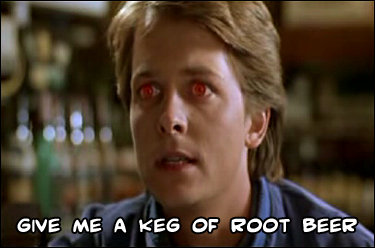 In other news, the trailer for StagKnight is out. For those of you new to the site or who don't remember, Stagknight is a cheezy horror/comedy from the UK and our web site has a small cameo during the movie. In fact, the director just sent me a screenshot of it: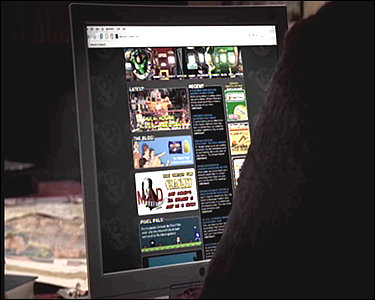 Pretty spiffy! No word yet on whether the web site will be walking down the red carpet though. But if it does, it'll definitely be wearing Versace, because fuck that Vera Wang shit. Only Versace knows how to dress the site right.
Random survey: Aside from drinking it, list other possible uses for a giant keg of root beer.
Random survey #2: Since there was never a spin-off movie about the life of Owen from Planes, Trains and Automobiles (of of greatest supporting character roles ever), share your thoughts on what a movie based on him would be like. Furthermore, explain the origins of the insane facial expression and nasal sound he makes.
20 comments
Leave a Reply
Previous post: So what's November for again?
Next post: Winter Lucky Charms and Glowing Nintendo Wii Gift Cards!