Winter Lucky Charms and Glowing Nintendo Wii Gift Cards!
So late last night I went to the grocery store and picked up a box of Lucky Charms for the first time in a while. While Boo Berry may be my all-time favorite, I think just about everyone remembers Lucky Charms as their first run-in with a cereal that had marshmallows in it (for all you trivia buffs, it's actually the first cereal that ever came with marshmallow bits in it). What's nice is that the marshmallow content seems to have gone up a bit over the years, so no longer is it a struggle to find marshmallows anymore towards the bottom of the box. And don't deny it, we've all dug marshmallows right out of the box and discarded the remaining cereal before. I remember doing it all the time when I was younger, always assuming some boring adult would come along and eat the leftover healthy cereal bits while reading the Wall Street Journal and talking about their 401k. Whatever that was all about...
For the holidays, they've just unveiled Winter Lucky Charms: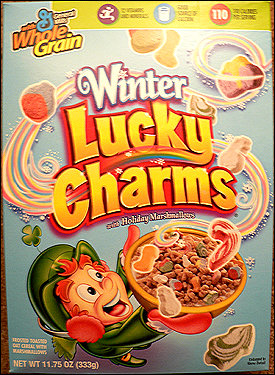 Ignoring the fact that leprechauns have about as much to do with Xmas as they do with tha hood and outer space; all of Lucky's new marshmallows now have an Xmas theme - Pine trees, stockings, candy canes, snowmen, ornaments, wreaths and presents. Depending on what's inside of them, I guess I could see the stockings and presents being potentially "lucky", but what about the rest of those things? I don't recall anything lucky about ornaments. Well, I do recall once stepping on the shard of a broken ornament with my bare feet, so I suppose that was a form of luck... just not the good kind. But a pine tree? A snowman? A wreath? A candy cane? What forms of luck have these really brought anybody? I'm just glad the pine tree marshmallows don't taste like sap and bark.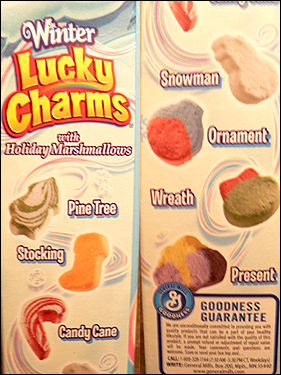 In other news, as if the new Nintendo system wasn't already looking good enough in the eyes of the general public, now there are new gift cards at Target. But not just any gift cards... glowing gift cards: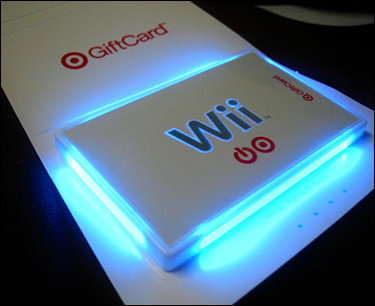 Admit it... even if you're not planning on buying the Nintendo Wii, you still want to own one of these gift cards. A gift card that has a soft blue glow? Come on, who wouldn't want that? Hell, I'd buy one and not even bother to put any money on it.
Random survey: Please explain exactly what's so lucky or unlucky about each of the new Winter Lucky Charms marshmallows in your opinion.
18 comments
Leave a Reply
Previous post: Holiday M&M's, Root Beer Kegs and I-Mockery's movie cameo
Next post: I-Mockery's 2006 Secret Santa Event!