I-Mockery's 2006 Secret Santa Event!
If there's one thing about Christmas that I've always liked, it's whenever I've been a part of a Secret Santa game. For those of you not in the know; Secret Santa is when a bunch of people gather together with presents in hand with the intention of exchanging them. However, you don't buy the presents for a specific person, you just buy something and put it into the pile. The people then draw numbers from a hat (usually a Santa hat, ho-ho-ho) to see who gets to pick from the gift pile first. After the first person gets his/her gift, they then must open it and show it to everybody and the person who bought it usually reveals himself/herself. At this point, the second person in line can either choose something from the gift pile or they can take the present that the first person already opened. The game continues on like this until everybody has had a chance to get a gift and it ends with the first person getting to choose to take a present back (if his/her present was taken at some point during the game).
Now back in elementary school, it wasn't as fun because one kid always got way better gifts than everybody else, and then some kid would get upset and start pulling hair and attempt to shove a huge glob of Elmer's Paste down the throat of whatever kid got the best gift. Ok it was me, but COME ON, he was asking for it! I got a friggin' Wooly Willy magnetic hair toy while Ted got a brand new Skeletor w/ Panthor gift set. That lucky sonofabitch had it comin' and I hope he can still sense the faint taste of school paste when he goes to sleep every night. Thankfully, it's always a lot of fun nowadays, and if you're friends with the same kind of people that I'm friends with, it can often involve a) truly hilarious gifts b) truly disgusting gifts or c) hilariously disgusting gifts. I won't get into all the details, but I'm sure you can all imagine.
Anyway, last year we held I-Mockery's first annual "Secret Santa" event and while we had a lot of fun with it, some people were flat-out lazy, and as a result it wasn't as good as it could've been. This year, we've got the event set up properly and it's going to be way better, so I'm proud to announce I-Mockery's 2006 Secret Santa event! What we do is simple. We collect the names of anybody who wishes to participate and then each of them are assigned one person to send a gift to. Every person who sends a gift out, will get a gift from a random person on the forums too. And the best part is you won't know who you're getting a gift from until it arrives. But it doesn't end there. Once you get your gift(s), you then post photos of them in our Secret Santa message board thread along with your comments about them. Last year, some people (myself included) actually told a story based on the gifts that they received. And no, you don't have to live in the U.S. to participate, this is open to anybody anywhere.
Sounds fun eh? You're damned right it does. All you have to is register on our message forums (if you haven't already) and then follow the instructions for participating in the event. And don't worry, everybody will be getting roughly the same level of gifts because we've set a minimum and maximum spending amount on them. So there won't be any of that "one person gets a Nintendo Wii system and another person gets a box of melted popsicles" kind of bullshit. The deadline for the signing up to participate is November 26th, and if you're brand new to the forums, you'll probably want to sign up a little earlier than that because there are several verification steps you'll have to go through in order to participate in the Secret Santa event.
You can find out more details about the event in the official Secret Santa event thread here: http://www.i-mockery.net/viewtopic.php?p=451444
In other news, I'm sure you've all heard about the Dora the Explorer Aquapet that recently came out. If I had any idea that the entire internet would've made such a big deal over that thing just because it's phallic, I would've posted about it a long time ago. You see, it's really nothing new because Aquapets have been around for quite a while...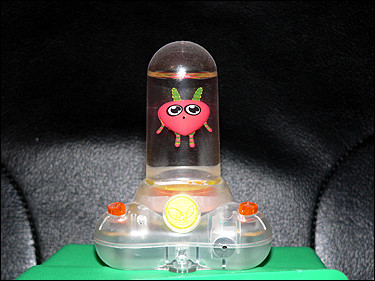 We've had this lil' fella for 2 years or so and his container is just as phallic as the new Dora one that everybody's making a big deal about. Oh well, sometimes I just can't be the first one to break the big news about the latest phallic toys. It's something I've come to accept over the years. At least I can always count on this lil' guy to keep me company - he even sings some weird little tunes (including his own rendition of Wagner's "Ride of the Valkyries") while doing his aquadance whenever I push one of the buttons. My real friends won't do that for me even if I offer them cash.
Now, if you don't mind, I've got an Aquapet to go sit on talk to.
Random survey: Have you participated in a "Secret Santa" event at any point in your life? If so, what are some of the most memorable gifts you've given and received?
Random survey #2: What should we name our Aquapet and why?
23 comments
Leave a Reply
Previous post: Winter Lucky Charms and Glowing Nintendo Wii Gift Cards!
Next post: Michael Richards…