Billy Idol's "Happy Holidays" Christmas Album!
My friends, I believe I have just purchased what may be the greatest Christmas album to come out in AGES. Behold!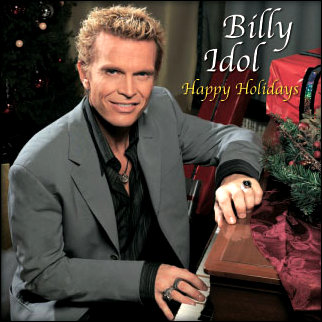 FUCK YES. Billy Idol and Christmas - together at last! Not since the Star Wars Christmas Album have I been so excited about a hilarious holiday recording. I'm sorry, but this is just too good to be true. And it's not what you'd expect! I'm sure you're all thinking he's redone all the Christmas tunes in classic Billy Idol style, but you're wrong. No longer is he pumping his spike-adorned fist in the air. Nope, our pal Billy has traded in his white wedding days for a white Christmas instead. On his new "Happy Holidays" album, he's singing these classic Xmas tunes the way the were originally intended to be performed. Just sit there for a minute and try to picture Billy "Mony Mony" Idol performing a yuletide tune like "God Rest Ye Merry Gentlemen" in front of the Christmas tree.
Oh, but it gets better. And just how does it get better?
He filmed music videos for some of the tunes.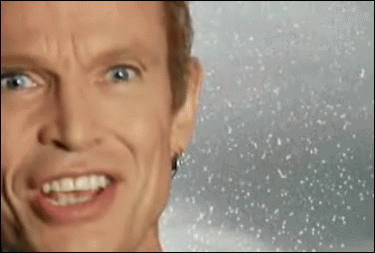 Brilliant. Absolutely brilliant. I think this is one of the finest works of Christmas hilarity we'll ever see in our lives. The videos scream of low production value - even reusing the same set and adding in the digital snow. Either Billy Idol is a comedic genius or he's planning on coming out of the closet in the near future. And considering his big rock star reputation, I seriously doubt that it's the later. Just look at the big smile on his face as he sings those songs, still occasionally raising up his left lip in classic form. You just know he's getting a huge kick out of all this and I'm sure some of his fans (like me) are loving it while others are completely dumbfounded while wondering, "Why, Billy, why!?" Guess the joke's on them.
Listen up and listen good. The man is clearly a genius and you should welcome his new musical holiday hilarity with open arms. I highly recommend ordering it from his web site because it's only 10 bux on there as opposed to the 20+ that it's going for at most major retailers. Plus they take PayPal on his site, which is always nice if you use that service.
Make sure you catch ALL of his new holiday music videos. So far there are three of them online, but I'm hoping he's done one for all 17 songs on the album and will eventually release them all. Out of all three, I'd have to go with "Jingle Bell Rock" as my favorite video so far. Just watch it for yourself and you'll see why:
Forget about the Nintendo Wii, the Playstation 3 or anything else that might be on your Christmas wish list. Billy Idol's "Happy Holidays" album is without a doubt the greatest thing about the 2006 holiday season. Don't deny it. You know it's true.
55 comments
Leave a Reply
Previous post: Michael Richards…
Next post: Who needs a couch when you have a Sumo?