Debbie Does Christmas.
How the hell is it December already? It feels like we didn't even have a November, as if they just went straight from October to December. Perhaps the stores being filled with Xmas stuff all last month had something to do with that. Either way, December is here and that means the seasonal treats are popping up left 'n right. And Little Debbie is back once again with my favorite Christmas Tree Cakes. Some of you probably recall me mentioning them in a blog post last year, but this year she's got a whole Christmas arsenal up her sleeves.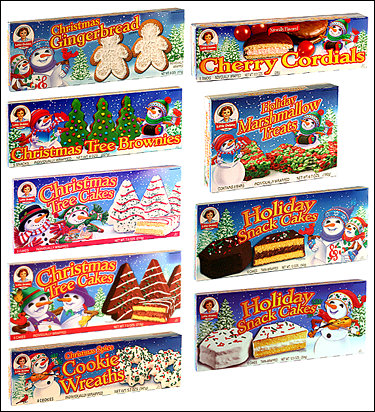 Now there's no chance in hell that I'll be able to find all of these treats in my grocery store, because grocery stores like that only exist in dreams where the shelves are stocked with everything you want and it's all free and Billy Idol sings "Run Rudolph Run" to you at the check-out counter and your grocery cart is actually a jet-powered go-kart which also happens to be able to fly and shoot grenades which contain mini bear traps inside them as shrapnel that latches onto the throats of any other shoppers who dare to get in your way and when you get home your groceries unload themselves and float into your golden refrigerator that happens to be shaped like Bionic Bigfoot and just as you're about to eat 500 Little Debbie snacks without gaining any weight whatsoever, Batman, The Jolly Green Giant and Grape Ape all show up at your place with a Nintendo Wii system and a 200" plasma screen TV because they need a fourth person to join them in this brand new game that hasn't even been released to the public because it's so realistic that if your character gets punched, you actually feel the pain in your loins, but you don't feel any pain since you're now a part of the "awesome foursome" who are untouchable gaming gods and you realize that the groceries you bought were magic groceries which refill themselves as soon as you take a treat out of the box, so you offer some treats to your newfound friends and they unanimously vote you to be supreme king of the world and the rules of grammar don't apply to anything you type so you can have the world's longest run-on sentence and nobody would even give a damn. Man, I love those dreams.
Anyway, out of all the Little Debbie snacks, I still gotta go with the Christmas Tree Cakes as being the most appealing, though the Cookie Wreaths look pretty damned delicious too. Hope I can find some of those. Which Little Debbie holiday snack is your favorite and why?
In other news, we're going to Las Vegas this weekend for the first time ever. Now, considering a) we're not rich and b) we wouldn't piss away a bunch of money on gambling even if we were - tell me, what other things are a must see for Vegas first-timers? Touristy and non-touristy. I realize I might not even get a chance to look at all of your suggestions before I leave, but if I have a good enough time, it's likely that I'll go back again in the not too distant future and I'll try to check out some of your best activity ideas then.
Alright, I've got a box of Christmas Tree Cakes with my name on it and Batman 'n crew are tired of leaving that game on pause while I update the I-Mockery blog, so I had better get goin'. Have a spiffy weekend all!
p.s.: We've got another big surprise Flash game coming up later this month!
25 comments
Leave a Reply
Previous post: Who needs a couch when you have a Sumo?
Next post: Cabury mini-eggs in December? What bizarro world is this?