Cabury mini-eggs in December? What bizarro world is this?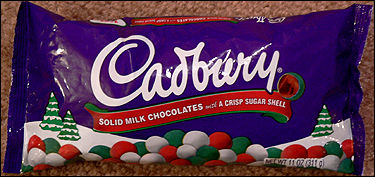 Jingle bells, Batman smells... Robin laid an egg. The Batmobile lost its wheels and the Joker got awaaaaay. I had to do a double-take when I saw these in the store, but it's true, Cadbury's Mini-Eggs are now officially a part of the holiday season. As you may or may not know, these are basically my all-time favorite chocolate candies, but until now, they were only available on Easter each year. Some of you might recall how I found a Cadbury egg with a nipple on it back in February, and it quickly became the infamous "Nipple Egg". But yeah, the eggs are back for the holidays and I couldn't be happier. Ok, they don't actually call them "eggs" on the package, but there's no doubt it's them. The same milk chocolate with the think sugar shell. The only difference is that these ones come in festive white, red and green colors. I must apologize to my stomach in advance, because I'll be gorging on these things all month long and while my taste buds will surely be happy, my stomach is going to hate me for so much sugary cruelty.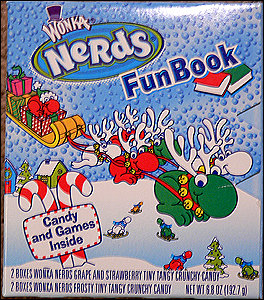 Another thing I picked up was this Nerds Fun Book. These things have been out for many years, sporting a variety of candies, but for one reason or another I realized I had never actually purchased one. Well considering that I felt like eating some Nerds and never did learn what was actually inside these "fun books", I decided it was high time I purchased one.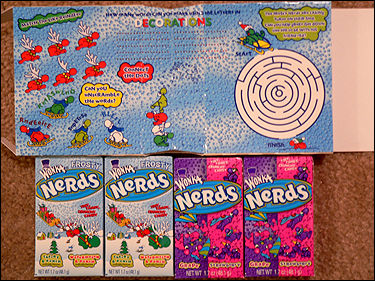 Hmmm... yeah... not very "fun" looking is it. I was at least hoping for some kind of mini-book containing a Nerds story, but instead I got "fun" word scrambles, connect the dots and mazes. Oh well, at least it comes with FOUR boxes of Nerds including the "Frosty" winter Nerds that only come out each winter, so all is not lost.
In non-candy news, I just got a copy of "Pirates of the Caribbean - Dead Man's Chest" on DVD. What can I say, it was a really fun movie to watch and I thought the special effects were some of the best I had seen in recent years. Plus the 2-disc special edition DVD case is super shiny. SHINY! :O How could I pass that up? The best thing is that if you hold it up at just the right angle, you can see your reflection appear behind the ship that's being attacked by the giant Kraken. It makes you look like an evil sea god, commanding his Kraken to destroy the pirate ship.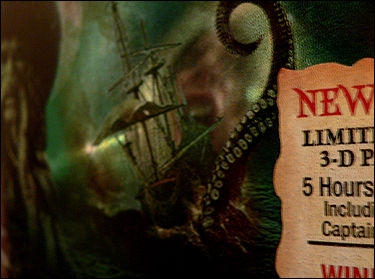 See what I mean? Jesus, I think I'm having more fun with the box than the actual movie. I need help. Oh yeah, I also picked up the long-awaited Richard Donner cut of "Superman II". I haven't had time to watch it yet, but I can't wait to see extra battle footage of the greatest big screen bad guy of all time... General Zod!
On a final note, I went to a Christmas party for the place where Re works last night. They took us out to a nice restaurant near Venice Beach (Lilly's), and who is sitting a few feet away from us? Christian Slater! If I had a football with me, I would've chucked it at him and shouted "I love my dead gay son!" but alas, I had no pigskin on-hand so I kept my mouth shut. Besides, the guy was on a dinner date with Maria Bello and I didn't want to interrupt their dinner, even though I wanted to tell him how fucking great "True Romance" was. As if that wasn't enough, Camryn Manheim then walked into the restaurant to stop by and say hi to him. It was weird seeing celebrities just hanging out in the restaurant. And hey, now I get to say that I used the same restaurant bathroom that Christian Slater probably snorted some cocaine in. Hooray!
And yes, pics from my trip to Las Vegas are forthcoming. Hopefully I'll have them up online by early next week at the latest. In the meantime, go see the Ultimate Warrior rape Santa Claus!
18 comments
Leave a Reply
Previous post: Debbie Does Christmas.
Next post: Lightning Santas and Marshmallow Peeps Cutouts!