Lightning Santas and Marshmallow Peeps Cutouts!
Get your asses to your local grocery store, because I've just found what I consider to be the coolest treat of the holiday season so far: Lightning Santas!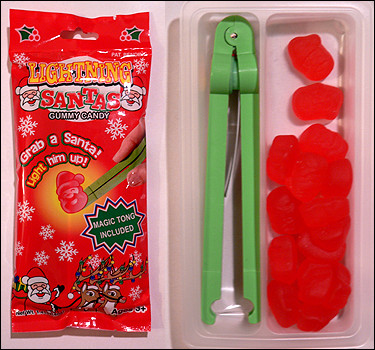 These gummy candy treats come with "magic tongs" which light up the candies when you hold onto 'em. I don't know how somebody comes up with an idea like this, but I'd sure love to hear them pitch it in a business meeting...
"Say boss, what if we make a candy shaped like Santa Claus heads for Christmas this year!"
"Yeah, so? What's new about that?"
"Wait, I'm not finished! Not only are the candies shaped like Santa, but it comes with magic tongs that light Santa's head up when you grab him!"
"BRILLIANT!"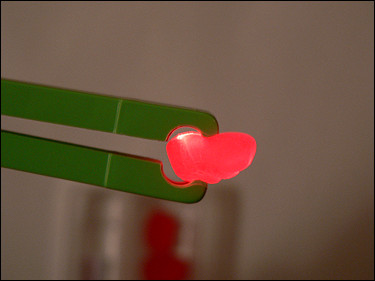 As you can see, the product does not disappoint at all. Eat your heart out Rudolph, Santa no longer needs your nose because his entire head can guide his sleigh through the foggy night. At a mere 99 cents per pack, you can't beat the price. Plus, the cherry-flavored gummy treats taste damned good too, but the fact is you'll have the tongs long after you've eaten the candies, so you'll need to find other uses for them. I really need to go to a Japanese hibachi/teppanyaki restaurant and see their reaction when I hold up my beef with the magic tongs instead of a pair of chopsticks. I want to see my soy sauce soaked beef glow with red fury!
In other holiday treat news... Peeps are back with a brand new holiday snack to stuff your stockings (and your stomachs) with: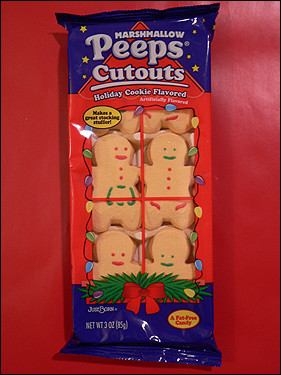 Peeps Cutouts are just like regular Peeps, only they're shaped and flavored like sugar cookies that we all love to scarf down during the holidays. In all honesty though, the marshmallow flavor overpowers the holiday cookie flavor by a mile. Still, as the package says, they make for a good stocking stuffer and it's always fun to bite the head off of one of the Peeps while the other one continues to hold its hand, not realizing his friend has been decapitated. Not really sure what that green design is supposed to be on some of the Peeps cutouts though, maybe a bell perhaps? Take a closer look and tell me what you think.
So anyway, are you guys gonna check out that "Black Christmas" horror movie that's coming out this month? I'm not sold on it yet, although I love any horror movies that are tied in with the Christmas season - "Jack Frost" and "Jack Frost 2" being the greatest ones ever (though the original "Silent Night, Deadly Night" is definitely on that list too and one of these days I'll get around to reviewing it). But this "Black Christmas" is a remake and while I haven't seen the original one from the 1974, I have doubts about any movies they try to redo these days. Plus, the original is supposed to be really good from what I've heard. Still, the new one is from the makers of the "Final Destination" movies, and while their plots are laughable, I admit that many of the death scenes from those flicks are guilty pleasures o' mine. So yeah, good or bad, I definitely plan on seeing that flick later this month.
And now it's time for another random survey! What's the one holiday movie you look forward to watching more than any other this month? (even if it's one you've seen before) Be sure to explain your reasons why!
p.s.: Check out my latest feature on the obligatory holiday episode from the Weird Al Show that most people never had a chance to see since it was only on the air for one season.
34 comments
Leave a Reply
Previous post: Cabury mini-eggs in December? What bizarro world is this?
Next post: San Francisco and Redwoods here we come!