Willy Wonka would be proud… plus, Moose Mugs!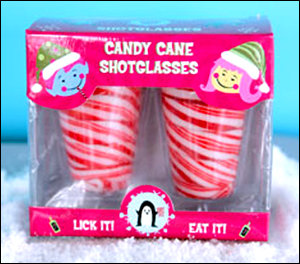 Your eyes do not deceive you: edible candy cane shotglasses! I may not be a drinker, but even I can appreciate these things. It's like something straight out of Willy Wonka's factory, and what better way to treat your aching liver this holiday season than with liquor and just a hint of peppermint. In all honesty, these things are absurdly overpriced, selling for a whopping 9 bux at Urban Outfitters. Then again, everything they sell is overpriced, so that's no surprise. Still, the fact remains that these things are candy canes. Oddly shaped candy canes, sure, but candy canes nonetheless. The same candy canes that you can buy twelve of for 99 cents. Still, I have no doubt that they'll sell like hotcakes this season. And who doesn't want hotcakes? Or at the very least, Johnny Cakes.
In other holiday-themed drinkware news, CanadianMoose just sent me two of their Christmas Vacation Moose Mug reproductions. I gotta say, they might be pricier than the average mug you'd buy, but the quality of these things is incredibly nice. I now feel obligated to drink egg nog, juice and all other beverages from these mugs for the remainder of the month. Ah who am I kidding? I'll still be drinking out of these things next summer. There's just no "wrong" time to drink out of a hollowed out moose head.
Completed unrelated, I just finished watching season one of "Dexter" on Showtime and it is without a doubt one of the best new shows on television. As far as I'm concerned, this show has completely validated the extra cash I pay for cable TV these days. If you haven't seen it, it's a show about a blood splatter specialist who moonlights as a vigilante serial killer. They took actors from a bunch of my favorite HBO shows including "Six Feet Under" and "Oz" - Michael C. Hall playing the lead role of Dexter Morgan. It's extremely well written, filled with great sub plots, and Dexter's character is absolutely fascinating to watch as he tries to balance his bloodlust with pretending to be normal in everyday activities. In all seriousness, whether or not you have cable, you need to see this show. So if you don't have access to it now, be sure to pick it up whenever it comes out on DVD. What's killing me is that I now have to wait until late 2007 before a new season starts. Might have to pick up some of the books to tide me over...
Also, who's going to see Rocky Balboa? I'm hearing nothing but good things about it and I couldn't be more excited. These are the movies I grew up on and it's nice to hear Stallone is giving Rocky a send-off with class instead of what we saw in part V. Going to see it tomorrow so I'll letcha know my thoughts on it afterwards. Win Rocky, win.
p.s.: Thanks to those of you who've been getting me things from my Amazon Wish List already. You rock the mock. I might even do some articles/reviews about the things I get.
p.s. #2: Keep those San Francisco suggestions 'a coming, cuz we leave this weekend to go check the place out!
17 comments
Leave a Reply
Previous post: San Francisco and Redwoods here we come!
Next post: Have yourself a Drago little Christmas…