Have yourself a Drago little Christmas…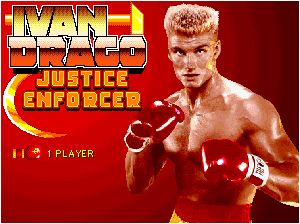 HEY LOOK! SANTA'S COMING DOWN THE CHIMNEY.
OH NO! HE SLIPPED!
IF HE DIES... HE DIES.
Here it is, the biggest I-Mockery project of 2006. "Ivan Drago: Justice Enforcer" allows you to take your raw Soviet power to the streets and make 'em run red with the blood of all lawbreakers. This huge new flash game features 3 unlockable characters, a variety of super combo moves, a mini-game and much more. It will also save your progress, so each time you unlock a new character, it will stay unlocked even after you've closed your browser window! This game is dedicated to all of the "Rocky" films that we grew up on.
Please post your thoughts on the game here in the blog, we'd love to hear what you all think!
This is our big Christmas/holiday surprise to all of you. From myself, PoX, BoM and our tireless beta tester, Dr. Boogie, we hope this game leaves your holidays bruised, bloodied and beaten.
In all seriousness though, thanks to all of you who've supported the site so much over the years. Looking back on 2006, I honestly think it was I-Mockery's best year ever and this latest game is icing on the cake. Expect a lot more in 2007, including the launch of some new sections, features and a site redesign early in the year! Well anywho, I'm here in San Francisco now on break, but I've got WiFi access from our hotel room and will check in sporadically over the next week. And yes, the drive up the Pacific Coast Highway (PCH) was absolutely incredible and everybody should do it at least once in their lives.
Me need sleep now. Have a spiffy holiday everybody!
43 comments
Leave a Reply
Previous post: Willy Wonka would be proud… plus, Moose Mugs!
Next post: Yo ho ho and a bottle of 2007!