Ask the Magic Date Ball!
Have you noticed lately that all of the shelves in stores are taking on the nauseating color of pink? While I'd like to say it's because they have an abundance of Pepto, the truth is that Valentine's Day is drawing closer. And though we'll all be seeing overpriced candies and plush toys with hearts 'n mushy messages plastered all over them for a while, it doesn't mean we can't sit back and laugh at the companies who try to cash in on the season with their crazy shit. And I have the first item of the season: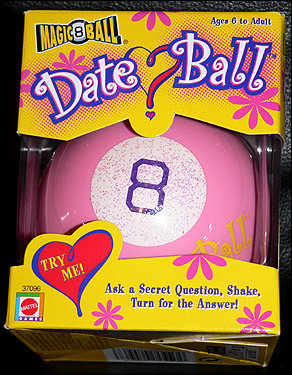 The Magic Date Ball!
Yes, for some reason, Mattel decided to remake their classic Magic 8 Ball for Valentine's Day by painting it pink, covering it with glitter and changing the answers it gives to your "yes" or "no" questions. They do mention on the box that it is "for entertainment purposes only" so you know somebody tried to sue them at one point because the 8 ball gave them some bad advice when they were betting on a horse down at the race track. It's a sad, sad world we live in.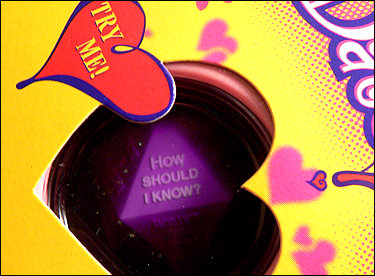 Sometimes the Magic Date Ball will give you answers which have a little heart graphic on them, but other times you get stuff like "I don't know!", "How should I know?" and "I'll tell you later". In other words, this ball is far more indecisive than the original. But hey, it's got glitter, right?
I've already asked it a ton of questions and it turns out... YES, I am going to be a mega-gazillionaire who will live to be 800 years old and not look a day over 30. So now that the mysteries of my life have been cleared up by the Magic Date Ball, it's your turn!
Ask me any "yes" or "no" question, and I will ask the Magic Date Ball and then post its response to you.
(Post your questions here in the I-Mockery Blog. One question per person please.)
88 comments
Leave a Reply
Previous post: Movies I've seen recently
Next post: Aiiieeeee! The forum is down!