Busy times and Valentine crimes
Sorry for the lack o' updates to the ol' I-Mockery blog as of late, I've just been working on too many projects at once (as usual). First and foremost, I'm happy to report that getting our message forum converted to the new software while still saving all the posts and user accounts, went over really well. I've also been working nonstop on a lot of site redesign stuff so that we'll be able to support all the nifty new features that are coming to I-Mockery in the not too distant future. At the very least, in addition to all of the new features, the site's gonna look a hell of a lot better and I'm pretty excited to unveil it to all of you.
So this week I'm headed back to the East coast cuz my buddy Lucas is getting married. Some of you longtime mockers might remember him from some of the old A.L.E. comedy tunes we did together back in the day. Yep, well somehow he found a girl nice (read "crazy") enough to marry him. Since he's getting married in Arlington, Re and I decided to hangout with friends and family in Richmond for a few days before the wedding. It'll be nice to see everybody again and eat at some of our old favorite restaurants 'n what not. After the wedding, if time permits, we're also gonna head up to Philly to see some friends there too. Should be a nice little break away from the computer.
In other news, Valentine's Day is right around the corner and something strange is going on in stores. Re and I have both noticed a disturbing amount of Valentine gifts this year that involve one of two things: Fish or NASCAR. Can somebody explain the logic behind this insane new trend, because I sure can't. Do guys actually think the ladies are gonna melt like butter in their arms upon receiving a a box of chocolates with a NASCAR driver's photo on it or a chocolate bass fish? I mean look at this shit...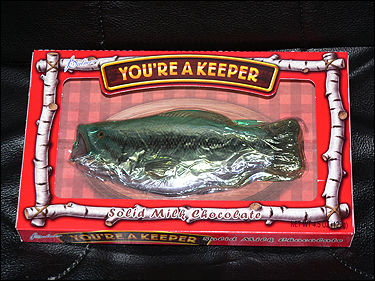 A chocolate "You're a keeper" fish with bass fishing trivia on the back? Wow. Try to hold yourselves back, ladies! Don't let the pure ecstasy that comes with receiving a chocolate bass cloud your thoughts. Trust me, it's not a romantic gift.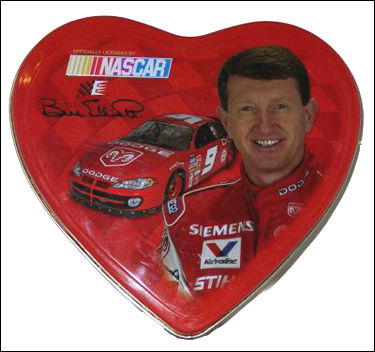 You got me a Bill Elliot NASCAR box of chocolates? TAKE ME! I'M YOURS!
I even saw a roll of toilet paper with "be mine" hearts printed on it selling for 3 bux last night. "Hi honey! Here's something for you to wipe your ass with! Happy Valentine's Day!" Brilliant. Don't worry though, on Tuesday we'll have a new batch of Valentine's Day cards for you this year that will drive your insignificant others wild (with rage). Until then, you can always check out our cards from 2006 instead. Just keep away from the fish and NASCAR stuff, ok? But hey, it's not ALL bad on Valentine's Day. Check out some of these nifty new treats: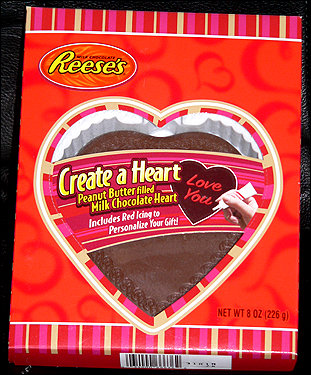 A giant friggin' Reese's "Create a Heart", Nerds Valentine Ropes and Everlasting Heart Breakers! Not too shabby, eh? Out of these 3 treats, I gotta go with the Reese's simply because it's pretty much the biggest Reese's peanut butter cup I've ever had. This is definitely NOT a "eat it all in one sitting" kind of treat, unless you're some kind of insane choco-peanut butter glutton fiend. FIEND!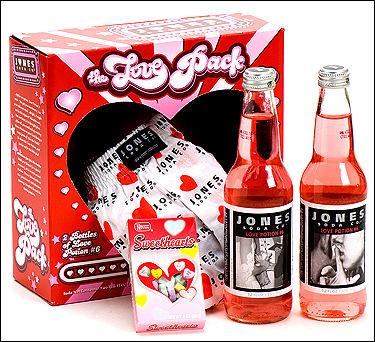 Jones Soda's Valentine Pack has also made a return but there's not much to review from it since it's basically the exact same stuff as last year. The only difference is that this year's pack comes with some boxers, generic candy hearts (instead of the extremely good Jones brand lip balm) and a "spin-the-bottle" game on the back of the box. No word on whether some of the packs will come with thongs or not. Well anyway, if you're interested in the Valentine pack, you can still check out our review of it from last year. It's definitely worth picking up a pack for no other reason than trying the "love potion" soda. Tasty stuff!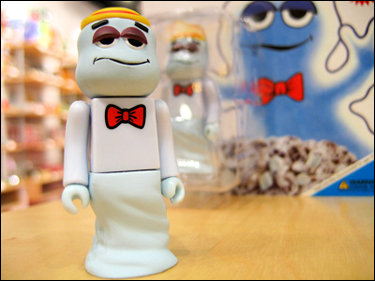 Unrelated to Valentine's Day, I just got my hands on the latest limited edition Kubrick figure... Boo Berry! I saw a prototype of this one at the 2006 Comic-Con and had been waiting for it to finally come out. There was a transparent one at the Comic-Con too and I'm hoping they release it soon. There's not much Boo Berry merchandise out there, but whenever something new comes out, I always jump at the chance to pick it up and I suggest you do the same.
On a final note, don't forget that we've got TWO contests going on right now. The first one is the Gymkata contest in which you must put one of the flag ninjas from the movie into another random situation involving flags. The next one is the Wacko-Saurs contest in which you must create your own version of one of those hilariously awful dinosaur cards from 1987. Make sure you all participate in both of these contests. They're easy to enter, and even if you don't win, your entries will be seen by all. And when I say "all" I'm of course speaking of the entire planet. Are you really going to pass up a chance like that? Well are you, punk?
survey: What are some of the stupidest Valentine's Day gifts you've seen in stores this year?
survey #2: What are you doing for Valentine's Day this year?
17 comments
Leave a Reply
Previous post: Gymkata has arrived on DVD! The skill of gynmastics. The kill of karate!
Next post: Back in town…