Mii, Wii and the Agonii of Defiit
I'm sure you've read my travel tales of woe from last week by now. If you haven't, check it out so you can feel better about your traveling experiences. Now, while the traveling itself was about as fun as having King Kong administer a colonoscopy, hanging out with everybody in Richmond was real nice. It also marked the first time that we got to really sit down and play the Nintendo Wii. Sure, we were at the big Wii launch party here in L.A., but with so many people there, we didn't get to play any of the games for long enough. That all changed in Richmond, cuz Proto and his roommates have a Wii with four controllers.
The two games we played were "Rampage: Total Destruction" and "Wii Sports". Rampage was actually a game I brought along with me cuz a generous I-Mockery viewer got it for me off o' my Wish List (thanks again Chris!). The game is actually a lot of fun, especially with four people playing at once, and there are some damned cool characters in it. I wouldn't recommend playing it without the nunchuck controller though cuz it's too hard to control your monsters without it. It's also got the original Rampage and "Rampage: World Tour" games included, so it should easily satiate all your rabid smashing needs.
Wii Sports was both a lot of fun and frustrating depending on what games I played. Tennis was easily my favorite of the bunch since it seemed to respond exactly like it should and it also resulted in plenty of shouting. Good times, good times. Bowling was alright, but I definitely need more practice with that one. My official "I suck" game would have to be boxing. Man, I could barely get my guy to even throw a punch. I was just a big wobbling target. Proto knocked my ass out in about 20 seconds. 20 SECONDS! Granted he's had more practice at the game, but come on... I should be able to last longer than that. Here's basically how it went, no matter who I fought: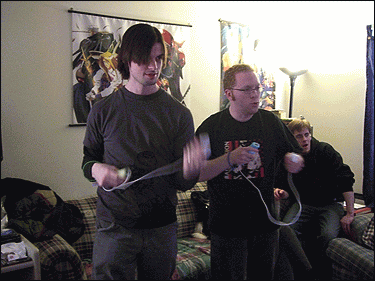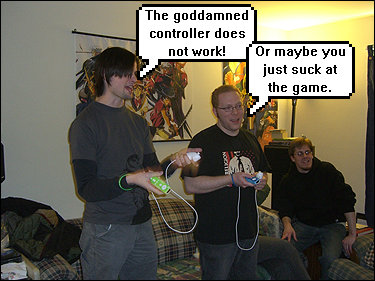 Oh well. I may have sucked at Wii Sports boxing and been knocked out faster than anyone in history, but they can't take one thing away from me...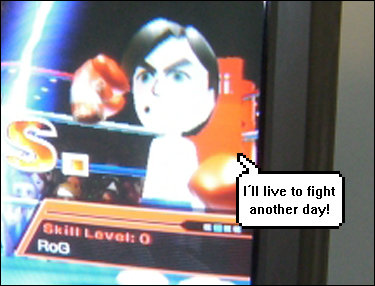 My "Mii" character rules. Especially since I had to use a beauty mark to make the mouth.
Survey: Since there aren't a whole lot of things you can do to customize your "Mii" character, what customization options should Nintendo add to the Wii system in the future? More hats? Weapons? Capes? Let's hear your ideas!
p.s.: you guys rule for sharing your immense knowledge of Butterscotch. We'll have to start having more discussions like that on here from now on.
33 comments
Leave a Reply
Previous post: Back in town…
Next post: The "new" Michael Myers