The "new" Michael Myers
In case you haven't seen it yet, here's a picture of the Michael Myers from Rob Zombie's upcoming "Halloween" movie:
Other than some extra dirt and grime, not much has changed.
While I'm no fan of any of the recent Halloween installations, I'm honestly not sure what to think about this. On one hand, the series definitely needs a fresh start, but at the same time I don't know if a retelling of the original story is where to go. If it were me filming the movie, I'd probably just pick things up off where part 4 or 5 left off... pretending that the later ones never even happened. I mean really, Bustah Rhymes in a Halloween movie where they spend a night in Myers' home for a spooky web broadcast? That's something I wouldn't mind erasing from my memory. Plus, I'm not sold on Rob Zombie either. I thought his first film "House of 1000 Corpses" was weak as hell. "The Devil's Rejects", however, was a big improvement and entertained me throughout most of the film. So there's hope for the guy, sure... but to hand over the reins of one of the greatest horror movies ever created to him? I think that could prove to be a big mistake.
And then there's this...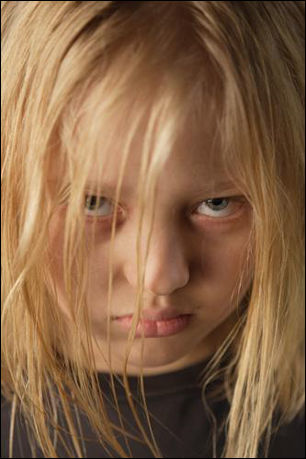 Meet "young" Michael Myers. Sorry, but he looks about as scary as Macaulay Culkin in "The Good Son" there... trying way too hard. Looks more like a kid who should be in the youngest Swedish death metal band on earth, not a young Michael Myers. And how does he go from a young kid with long blonde hair to a grown man with shorter, brown hair? Before going on a murderous rampage, did myers buy some "Just For Men" hair dye and go to town with it? Also, I tend to not like prequels. I don't need to know more about Michael Myers as a child. What was provided in the first film was just the right amount. Dr. Loomis said it best: "I met this six-year-old child, with this blank, pale, emotionless face and, the blackest eyes... the *devil's* eyes! I spent eight years trying to reach him, and then another seven trying to keep him locked up because I realized what was living behind that boy's eyes was purely and simply... evil!"
Perfection. You don't need anything more than that. I'm definitely going to give the movie a chance, but from what I've heard and seen so far, I'm not going to get my hopes up either. And for those of you who say "Well, it can't be worse than Halloween III", screw you, I like that movie. Silver Shamrock!
So what do you guys think? Is this new Halloween movie going to bomb or will it finally bring the Halloween series back to where it needs to be?
UPDATE: Now that the movie is out and I've seen it, you can read my full review of it here.
35 comments
Leave a Reply
Previous post: Mii, Wii and the Agonii of Defiit
Next post: The snot demons have invaded my brain