Aqua Teen Hunger Force Colon Movie
On Monday, John (Dr. Boogie) and I got to attend an advance private screening of the new "Aqua Teen Hunger Force Colon Movie Film for Theaters". We were pretty excited to see the flick because we're both fans of the show - plus the screening room had some extremely nice seats that all movie theaters should be required to have these days considering how much tickets cost. For me, anything involving Carl Brutananadilewski and his daily struggles to stay alive during his neighbors' latest botched experiments is always a source of insta-chuckles. That man alone is what got me into the show and kept me hooked on it. Without spoiling anything for those of you who plan on seeing the movie, lemme give you a brief synopsis of it. It's basically an origin story that goes out of its way to NOT really tell you much at all about the origins of Frylock, Master Shake and Meatwad. Unfortunately, the movie itself was a let-down. The humor just fell flat all too often and it felt like they were desperately trying to stretch it out for the full 90 minutes. John and I were both in agreement that the show works much better in the 15-minute format we've all seen on Adult Swim. They're simply able to tell a whole story and get straight to the funny stuff, and there's no time for the jokes to get old that way. That's not to say the movie is completely devoid of laughs, I'm just saying most ATHF fans will probably feel like it was too long for its own good.
The good news is that many of your favorite side-characters from past episodes are in the movie including MC Pee Pants, the Mooninites, Cybernetic Ghost of Christmas Past from the Future, and more. I gotta say though, I was hoping to see Happy Time Harry in there, but he never showed up. Guess he was busy with his "action bills" or something.
The most surprising thing, however, is the intro before the movie. I won't spoil it for you, but it's a spoof on those old-fashioned cartoons that would play before movies telling you to grab a refreshment and not to talk during the show. Honestly, it was one of the most hilarious things I've seen in quite a while and everybody who was in the screening room was dying with laughter. So yeah, I guess it says a lot about the movie when the intro (that's not even technically a part of the movie) is the funniest thing about it.
One thing's for sure though: while I didn't care that much for the movie, I definitely need to get my hands on the poster for it.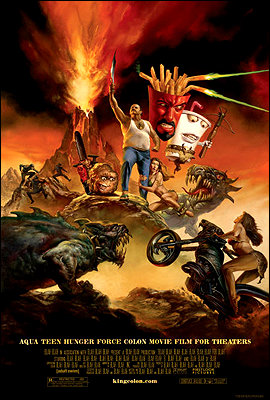 There's no denying that this is one of the greatest posters ever made.
33 comments
Leave a Reply
Previous post: Easter candies galore, Zelda and Grindhouse!
Next post: Nine Inch Smiles