Nine Inch Smiles
So the new Nine Inch Nails album came out the other day and I just picked it up. After having followed the absolutely brilliant guerilla marketing campaign / storyline behind it for weeks, I wasn't about to pass up this one. And yes, I am one of the few people who does still buy CDs apparently. I like owning the actual albums, which are often works of art in their own right. Not everything has to be digital... it's OK to own tangible things, people. I promise, owning some albums won't fuck up your feng shui.
Anyway, one of the perks about the new NIN album is that the CD changes colors and reveals things when you apply heat to it. Even touching it with the palm of your hand will do the trick. That's right, the new NIN album is HYPERCOLOR!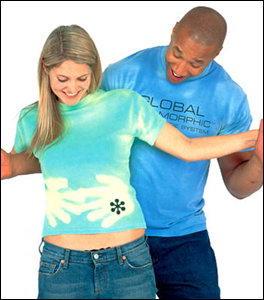 I'm sure you guys remember these t-shirt; who wouldn't? You could smack your friend on the back and it would leave your hand impression right on it. Fun for all, right? Well, the only problem with these shirts is they reacted to all kinds of heat... namely perspiration. If you happened to be sweating like a bastard in the summer heat, these shirts would create a vile trail of your uncleanly bodily excretions for the whole world to see. Tasty! So that's why you really don't see those shirts much anymore these days. But NIN is trying to bring the hypercolor technology back in style with their new CD:
I just couldn't help myself. There's something inherently hysterical about being able to draw a smiley face on a NIN album with my own body heat. What can I say... I work from home. These are the things I entertain myself with on a daily basis.
In unrelated news, we've got a new contest up and running in the forums for Black Christmas. All you gotta do is photoshop/design your own horrific Christmas tree and you'll be in the running to win a copy of the movie on DVD. Christmas in April? You're goddamned right. Check it out and make sure you turn in your entries before the May 15th deadline.
Also, I was at the grocery store the other day and saw that they still had a bunch of Easter shit they were trying to get rid of. Amidst the expired cookies and lame plush toys, I found something that took every ounce of restraint for me to not buy.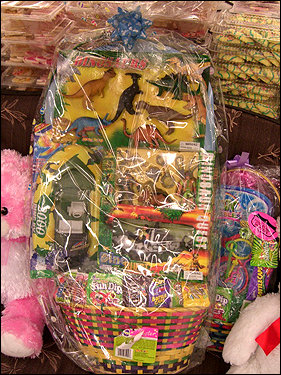 This Easter basket was 75% off and it came with Dinosaurs for chrissakes... DINOSAURS! It also came with some generic G.I. Joe figures and a helicopter, presumably used to help the soldiers hunt down the dinosaurs. In all honesty though, the last thing I need in the house right now is more clutter. Well that and I don't particularly have the desire to go out in public and skip to my car with an Easter basket in hand... even if it does contain dinosaurs.
Survey: What's your favorite kind of dinosaur and why? (And yes, Wacko-Saurs count because that's how all dinosaurs really looked in prehistoric times. You can't argue with science.)
35 comments
Leave a Reply
Previous post: Aqua Teen Hunger Force Colon Movie
Next post: Yo Compu-Geeks! Wanna work for I-Mockery?