Spider-Man, celebrity run-ins and Hooters for kids.
Hope you guys have enjoyed "Spider-Man Week" here on I-Mockery. Each day we put up a new Spidey-themed piece in preparation for the release of Spider-Man 3. For those of you who've already seen the new movie, what'd you think? I'm sure I'll be checking it out sometime soon and then will share my thoughts on it. After all, if there's one person who can pull off Venom, it's gotta be Sam Raimi.
So the other night I was out for a late walk around downtown Burbank when who do I run into? Jay Leno. He didn't have any camera crews with him, he was just out for a walk around town I guess. The studio where they film the Tonight Show is only about a mile from where we are, so it's not too surprising. Even though I'm not into his humor, it was pretty surreal just seeing him walking around in public without a camera crew or crowds of people asking for autographs.
Two days later, I'm walking in West Hollywood and I see a shiny black Escalade with tinted windows parked on the street, but one of the windows is rolled down. Who's sitting there? Mike Tyson. It's hard to miss a guy like that because a) he's got that crazy facial tattoo and b) he's just plain crazy. He stopped speaking on his phone for a minute and stared at me and I just smiled and kept walking as I could only imagine what was going through his mind. I'd venture to guess that he was wondering about eating my face or whether you spell "car" with a "c" or a "k". Either way, I didn't want to stick around to find out, and I sure as hell wasn't gonna brag to him about how I beat his ass in "Mike Tyson's Punch-Out" back in the day.
Elsewhere, Re and I were in Pasadena for a little while last weekend and couldn't help but burst into laughter as we walked by the local Hooters restaurant. No, we weren't laughing at the pathetic simps who claim they go there because, "the food is really good!"... we were laughing at this: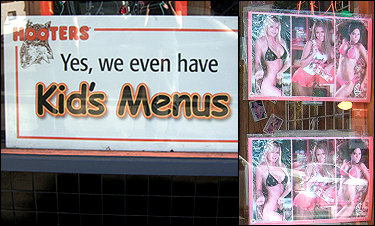 Yep, in one window they have a sign announcing their menu for children and in the next window over they've got bikini-clad Hooters girls. Can you imagine that family gathering...
(After a long day at work, Dad arrives back at home)
Kids: "Daddy! Daddy! We're so glad you're home! We missed you!"
Dad: "Haha, oh I love you kids!"
Wife: "Honey! It's so good to see you! I made you some nice meatloaf for dinner!"
Dad: "You know what? I'm in a good mood today! I've got a steady job, I've got a loving wife and I've got two beautiful children! Ok family, hop in the car because... WE'RE GOING TO HOOTERS!"
Family: "YAAAAAAAAAAAAAAAAY!"
When I was a kid, we went to Chuck E. Cheese's. Man oh man, how times have changed...
Oh and one last reminder: Don't forget tomorrow is Free Comic Book Day!
Alright, on with the Spider-Man 3 discussion! Let's hear your web slingin' thoughts.
41 comments
Leave a Reply
Previous post: Yo Compu-Geeks! Wanna work for I-Mockery?
Next post: Burgertime Baddies Battle!