Burgertime Baddies Battle!
Now that I've got some good video capture software, I was really happy to finally be able to do an article on "Tag Team" because there was virtually nothing about the TV show anywhere on the web. No footage of it to be found and only a small entry on IMDB. I was lucky enough to stumble on a copy of the pilot episode a while back (along with some other old shows that hardly anybody has ever heard of that I will surely be reviewing at some point) and I was laughing my ass off at how bad, yet hilarious it was. "Rowdy" Roddy Piper and Jesse "The Body" Ventura in a show about ex-wrestlers who become cops, yet still use their wrestling moves to fight the bad guys? How can you go wrong with a formula like that? If only the TV execs had given that show the greenlight... who knows what hilarity we would've been treated to during a full season. Ah well, at least you can all check out the pilot episode to experience what could have been. If you don't enjoy it, I'll have some words with you down in Piper's Pit.
In other news, an I-Mockery reader just sent me the Antworks Illuminated Ant Habitat from my wish list which rocks, because I was just talking about getting some pets the other week. And really, what could make better pets than a bunch of ants? Ok, well a lot of things could make for better pets than ants, but this is still gonna rock. I already sent away for the ants to be mailed to me (they don't come with the ant farm) so hopefully they'll be arriving soon. It's gonna be nice watching ants eat and tunnel through glowing blue goo. Pictures will be forthcoming as soon as I receive the ants. Maybe you guys can help me name them. Then again, it'd probably be hard to keep track of which ant is which.
So the other day I was playing Burgertime and got to thinking, "What if the bad guys from Burgertime no longer wanted to kill chef Peter Pepper and instead turned on each other? Who would win in this 3-way battle?" Clearly there's only one way to settle this: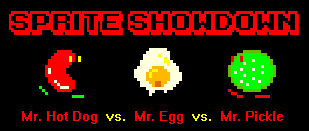 For our next big "Showdown" discussion here in the I-Mockery blog, we must choose who would emerge victorious in an all-out brawl: Mr. Hot Dog, Mr. Egg, or Mr. Pickle. Cast your votes and be sure to back up why you think your choice would win with supporting evidence!
Also why aren't there any female counterparts to these foods? Furthermore, how can they even tell if a hot dog, egg and pickle are males? Ok, granted, a hot dog is phallic by nature, but what about the other two?
48 comments
Leave a Reply
Previous post: Spider-Man, celebrity run-ins and Hooters for kids.
Next post: Dig my little ants… dig!