The Doritos X-13D Flavor Experiment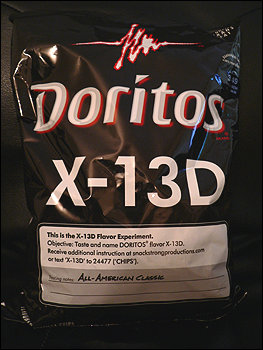 I don't know why, but I always get somewhat excited when I see a new flavor of Doritos unexpectedly hit the shelves. While their most recent flavors didn't really wow me at all, there's still the hope that forthcoming flavors will be as good as Fiery Habanero or Cool Ranch. So when I saw this mysterious Doritos X-13D Flavor Experiment black bag I was instantly drawn in. Damn those marketing people who know how to wake my curiosity by jabbing it with a red hot poker.
With the X-13D Flavor Experiment, Doritos is apparently having people taste the new flavor so that they can name it. They have given us a tasting notes clue: "All-American Classic". With this, they want you to go to snackstrongproductions.com to receive additional instructions. This then points you to http://x13d.doritos.com.
When you get there, they act like you've just found some underground government operation with ambient noises and transmission glitches abound. You can access the "Clue Generator" which is actually just an exaggerated version of the "match the shapes with the corresponding holes" game that infants play in their formative years. Then you have to match up some tubes so the mysterious clue can travel through the mechanical ducts. And finally, you have to press some buttons in the correct order to finally unveil what the extremely obvious flavor is: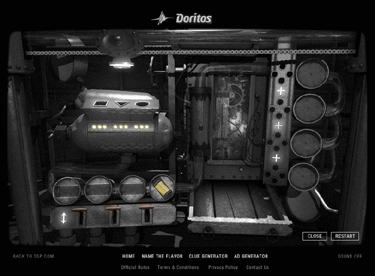 BARBEQUE!
You know, if they had made it some kind of space-age flavor or something, I might've been able to see the reasoning behind this campaign. But Barbeque? That's about as non-technological as you can get. It's meat & fire, not Men in Black. And honestly, it's not like you need to go through all this silly shit on the web site to figure it out. The chips taste just like barbeque. Well, more accurately, they taste like a combination of barbeque and ass. Plus if you read the ingredients after tasting it, it's kind of obvious since it has artificial BEEF flavoring.
I can't help but laugh my ass off at this because... it's a snack chip. A snack chip for chrissakes! They're trying to make it out to be an episode of the X-Files when it's an advertisement for a snack chip. The more I look around, it seems almost like some kind of cheesy (no pun intended) attempt to capitalize on Nine Inch Nails' highly successful guerilla marketing campaign for Year Zero.
It gets better though, because on their site they have some fake commercials for you to fill in the dialogue for. You simply call the 800 number with your phone and then it allows you to record your special voiceover for the commercial and then share it with your friends. Here, take a look at mine. It's guaranteed to be the greatest commercial you've ever seen: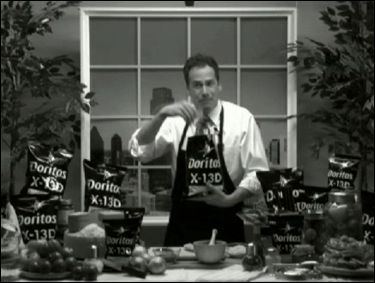 http://x13d.doritos.com/index.html?mid=21732036
I expect to be receiving an Oscar nomination in the mail any day now. And yes, I did record a very special voiceover for the alternate version of the commercial that they provided too. You can check that special alternate version here.
In the end, since the chips tasted like barbeque and ass to me, I decided to submit my name for the new Doritos chip flavor: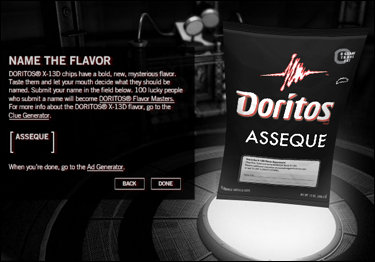 ASSEQUE!
So what do you think? Will I be the lucky winner?
NOTE: if any of you record a Doritos commercial, feel free to post the link to it here in the I-Mockery Blog. (You'll have to email it to yourself first in order to get the link)
48 comments
Leave a Reply
Previous post: One Otter to cool them all!
Next post: The Artwork of Marie Barr - Opening Reception!