The Artwork of Marie Barr - Opening Reception!
Re's first solo art show at the Hyaena Gallery is coming up this Saturday (June 16th) and I couldn't be more excited for her because she really deserves it. I can't even begin to tell you how much work she's put into this show, but you'll understand when you see it all. We're gonna be loading up the cars tonight to bring all of the artwork over to the gallery.
If you're anywhere even close to Los Angeles, I urge you to come out and see the show. The opening reception goes on from 8pm - Midnight this Saturday night. There's no cover charge to get into the gallery, there's always some free snacks and most importantly... you'll get to see all of this amazing artwork that she's been busting her ass on for so long. She'll have original paintings, Giclée prints, posters, comic books and more for sale at the show... something for everybody no matter what your budget is.
And no, this is not some snooty wine & cheese art gallery that you have to dress up for. In addition to Re's artwork, the gallery has all sorts of cool toys, magazines and novelties for sale. So yeah, as long as you don't show up naked, you'll be aok. Actually, you probably could show up naked and nobody would mind. It is L.A. after all.
Naturally, I'll be at the show all night as well. After all, yours truly did almost all of the framing for the artwork that will be on display. I used to work full-time in a frame shop and I still wield a mean point gun. So by all means come meet me and say hey!
Here's the flyer for it: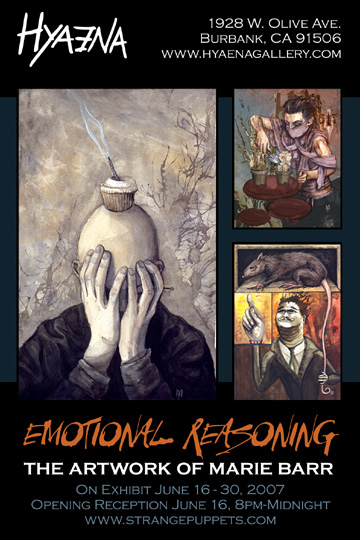 The Artwork of Marie Barr
Opening Reception: Saturday, June 16th.
8pm - Midnight
1928 W. Olive Ave.
Burbank, CA 91506
Hope to see you guys there!
22 comments
Leave a Reply
Previous post: The Doritos X-13D Flavor Experiment
Next post: Re's art show, my upcoming Coin-Op TV appearance, Monster Squad DVD and more!