Re's art show, my upcoming Coin-Op TV appearance, Monster Squad DVD and more!
First off, I want to thank all of you who showed Re a lot of support for her recent art show whether it was here on the blog, via email, or you actually showing up in person. Her show was a big success - really nice turnout with lots of cool people, she sold a lot of her paintings at the opening reception on Saturday night (and more have been selling since then) and she has already been asked to participate in some other shows including a really big one next year. It's insanely cool for me to see this happening to her, because for all the years I've known her, I've been waiting to see her get the credit she truly deserves for her artwork and now it's finally happening. I just couldn't be happier for her. For those who are interested, you can see her recap of the show here. And for those of you who've been asking, the show will still be running for the next two weeks, so you still have time to check it out in person at the Hyaena Gallery.
In other news, I will be making a live appearance on Coin-Op TV this weekend on Sunday at 8pm Pacific time! They'll be talking to me about I-Mockery, video games, and whatever the hell else we feel like talking about. Plus, those of you with AIM accounts will be able to ask questions for me and/or Rob (the host) to answer live on the show. So if you have any burning questions for me that you feel would be better suited for a live video broadcast rather than an email, by all means, please log on come Sunday night to theStream.tv and send 'em in! And don't worry, for those of you who won't be around on Sunday night to catch the live appearance, we'll still have a copy of the show in its entirety for you to watch afterwards. Anyway, here's the high-tech announcement video!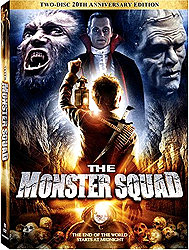 I've been getting a lot of emails about this lately, so I might as well break the news here for those of you who don't know already... Monster Squad is finally coming to DVD on July 24th! Not only is it coming to DVD, they've put together a big 2-disc 20th anniversary edition jam packed with extras including deleted scenes, interviews, a making of featurette, commentary tracks and more. Big thanks to those of you who emailed the studios and asked them to put this movie on DVD when I asked you to. It's always cool to see when studios actually listen to the fans, isn't it?
Well, until July 24th rolls around, you can read my big feature on Monster Squad to refresh your memory about just how awesome (or "Bogus" as Frankenstein would say) of a movie it really was. And speaking of big features, I hope you all enjoyed my article about Roger Corman's 1994 Fantastic Four movie. It took me a hell of a long time to finish, but big pieces like that are always really satisfying to read over once they're done.
I also want to mention that our latest forum contest is finally up and I hope you'll all participate. Should be really easy for most of you to enter, and if you do, you'll have a chance to win $75 and $25 gift cards to buy some video games at GameStop along with some other swag. You can check out the contest details, including a sample entry I made, here on the forums.
On a final note, I think I've finally found a new programmer for I-Mockery. For those of you who don't know, we've been in the middle of a big redesign for a long time now. Unfortunately, it's been delayed a lot due to some personal issues that our main programmer/admin guy has been going through. But this new guy is gonna be picking up where he left off and he's been a big fan of the site for a while now, so it should be fun to dive back into this project once again. I just upgraded the server (again) and things are moving much faster too... hope you guys have noticed. There are so many things I want to change on the site and so many new features I want to add in. It's already a huge site, but if all goes as planned with this redesign, there will be twice as much to see and do on I-Mockery every day.
I don't want to get too much into detail about the redesign still, but if there are any suggestions you have for improving the site, I'm always here to listen to 'em. Yes, I've heard your cries and I'm still working on figuring out a way for you guys to use print-outs of this web site as legal tender... but until that day comes, feel free to make any other improvement suggestions.
18 comments
Leave a Reply
Previous post: The Artwork of Marie Barr - Opening Reception!
Next post: I-Mockery Live on Coin-Op TV Tonight!