I-Mockery Live on Coin-Op TV Tonight!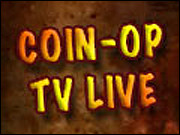 Yo ho ho, just a quick reminder to all of you: I'm going to be appearing live on Coin-Op TV tonight at 8pm PST (11pm EST), so if you're gonna be at a computer around that time, be sure to point your browser to thestream.tv so you can watch it in real-time.
Also, if you have an Instant Messenger, you can send some questions for me to answer during the show to: thestreamdottv That's their screen name on AOL, Yahoo! and MSN messenger. (note: MSN users should search for thestreamdottv@hotmail.com to add them as a friend in order to submit a question)
Here's the promo spot for tonight's show. Rad.
Should be a fun time watching me make an ass out of myself as usual. And don't worry, if you can't make it, I'll make sure I get a copy of the episode to put up on I-Mockery so you can view it later.
12 comments
Leave a Reply
Previous post: Re's art show, my upcoming Coin-Op TV appearance, Monster Squad DVD and more!
Next post: I-Mockery appearance on Coin-Op TV Live now online!