It's 3am, do you know where Chyna is? Also, it's Friday the 13th!
You know, there's a lot of surreal stuff about driving across the country to live in LA. Checking out many of the places that I've seen in movies, driving along the Pacific Coast Highway, laughing at the so-called "winter weather" in December... but nothing, and I mean nothing, is surreal as seeing Chyna hanging around your apartment.
So the other night, I'm sitting in my room at 3am, typing away on another article as usual (sometimes I work better late at night, less distractions) when all of a sudden I hear somebody talking really loud outside my window. I peek through the blinds to discover ex-wrestling superstar Chyna, stumbling around and talking so loud you'd think she was wearing headphones. Her speech was slurred and she was blathering on about her thoughts on some party she and her friend had just been to.
While I enjoyed seeing her fumble around quite a bit, I'm sure all the other neighbors didn't care for her loud drunken/over-medicated banter at 3am. What's funnier is that this isn't even the first time I've seen her here. I saw her once a few months back, late at night again, but she was so intoxicated that time I couldn't even tell what she was saying (nor do I have a clue as to what was keeping her from falling flat on her face). I wasn't even sure it was her at the time, but after getting a better view of her the other night, I'm 100% positive it was indeed "The Ninth Wonder of the World" herself.
So here's to you, Chyna... thanks for keeping me amused in the wee hours of the night. By all means, please stop by again. I'll even leave some meds and liquor out for you on my doorstep.
On a completely unrelated note, the Simpsons Movie soundtrack is the first soundtrack I've ever had the desire to eat.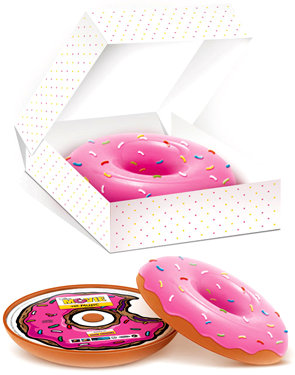 Sure, the soundtrack itself may not be of any interest, but you've gotta admit... that's one hell of a good novelty packaging job.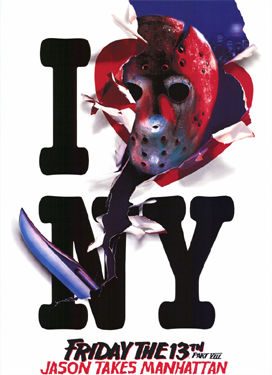 And last but certainly not least, today is Friday the 13th so I expect all of you to bust out your Friday the 13th DVD sets (or you can watch the edited to hell versions that will surely appear on TV tonight. AMC usually shows some of the movies, but come on, you should ALL own that DVD set by now). Whether you enjoy watching Crispin Glover dance like a maniac or you enjoy watching Jason stab people... like a maniac, the movies are pure slashtastic fun. You can check out my features on Jason's 10 Best Kills, Jason Takes Manhattan and the godawful Jason X costume if you want to relive some of the memories online. Have a fun time celebrating one of our favorite horror heroes, and don't have any premarital sex tonight. The consequences could be dire!
Survey: If you had to pick one scene from any of the Friday the 13th films, what would be your absolute favorite one?
13 comments
Leave a Reply
Previous post: Dinner With Destructoid and a bizarre menu item!
Next post: I-Mockery and Upright Citizens Brigade, sitting in a tree…