Ice Road Truckers. It's like Deadliest Catch, but far less interesting.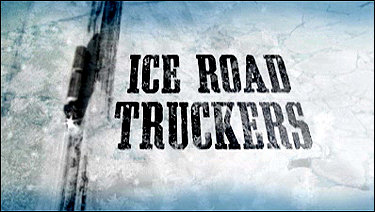 So the other night I was flipping through the TV channels when I stumbled on a commercial for a new documentary series reality show (docureality?) called Ice Road Truckers on the History Channel. At first, I honestly thought it was a joke because of the way they were promoting it and the fact that it didn't seem to be very "historical". Sure, ice road trucking is considered one of the most dangerous jobs in the world, but that doesn't mean it makes for exciting television. Plus, it's quite obvious to me that they're just trying to cash in on the success of the Discovery Channel's "Deadliest Catch" show, which is extremely entertaining to watch. Still, I had to watch at least one episode of Ice Road Truckers to see if they could pull off an entire series about this occupation.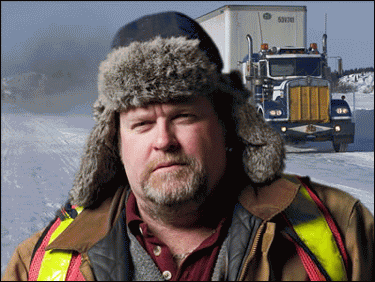 So the show itself covers the lives of these ice road truck drivers who work up in Canada's Northwest Territory to bring supplies to the diamond mines. Just like on Deadliest Catch, there are a variety of characters including veteran truckers and rookie kids in a race to make the most cash. The best thing about the show so far would have to be Hugh. He's the big guy who they all call "the polar bear". Honestly, they should give everybody on the show nicknames like that. Call the rookie "lil' penguin" or "baby seal" or something and you've got yourself an even better show, guaranteed.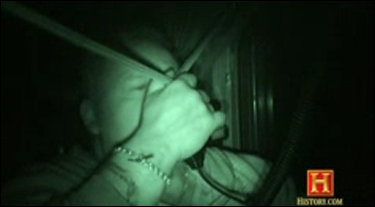 Anyway, Hugh owns four trucks and drives one of them himself while his employees drive the other three. The first episode I saw was very exciting... what with all the green night vision shots of Hugh yawning inside his truck, staring out into the black abyss talking about how he's on his own when he's out there. Oh and there was a fender-bender too! ACTION-PACKED! There was also one guy who lost his license due to speeding, so he went to a bar, played some horrible song about the ice road and went back home, vowing to never drive a truck again and instead become a full-time musician. Good luck with all that, pal.
In some of the later shows, trucks fall through the ice, which is the big danger that they're hyping up for this show. Now don't get me wrong, these truckers have a hard job, it is dangerous and I'm sure I couldn't cut it out there on the open icy road (I can't even stay on the road in Pole Position), but come on... this just isn't something that you need to dedicate an entire TV series to. I can understand doing a single documentary about their job, but it's nowhere nearly as exciting or dangerous as watching the action of Deadliest Catch on the Bering Sea. There are no pots filled with king crab or ships named "Time Bandit" and "Fierce Allegiance" or even Bon Jovi singing "Wanted Dead or Alive" on this show... just yawning guys driving trucks. But hey, it still might be enough to hold your interest since every now and then you'll get to hear some wisdom straight from their lips such as this: "You gotta have a respect for the ice road. If you don't have a respect for the ice road, it'll come up and bite you in the ass." Classic.
So am I the only one here that even cares about looking into these kind of shows, or do you all dream of hauling in a big pot of king crabs some day too? Or perhaps hermit crabs?
30 comments
Leave a Reply
Previous post: I-Mockery and Upright Citizens Brigade, sitting in a tree…
Next post: We're moving!