Where art thou, I-Mockery?
Ahoy there.
Sorry there haven't been any updates to I-Mockery over the past week, between the 2007 San Diego Comic-Con and Protoclown visiting me here in L.A., I've been far too busy to update the site. Re and I are also moving into a new place this month, so that's also keeping me preoccupied a' plenty.
That being said, I'm working on putting together my annual photo gallery from this year's Comic-Con. We took 800 some odd photos, and I'm sure a lot of them will make it onto the site, so once again, you can expect us to have the biggest coverage of the convention anywhere online. It's just gonna be a lil' bit late this time around.
I'll have plenty more news to share in the near future, but I've got a ton of emails to catch up on and even more photos to weed through, so I gotta get back to work now. So until that big Comic-Con piece is ready, let's have another discussion in the ol' blog...
Survey: What have you been doing for fun this summer? Gone on any spiffy trips? Seen any good shows? Flagged down the ice cream truck driver only to be crushed by disappointment when he informed you that he was out of bomb pops? Spill da' beans!
Update: I almost forgot to mention that The Monster Squad has finally come out on DVD! If you don't know what this movie is about, make sure you read my big feature on it and I'm sure you'll want to own a copy of it immediately.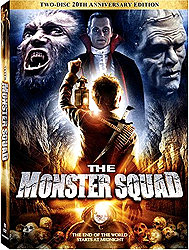 Wolfman's Got Nards!
39 comments
Leave a Reply
Previous post: We're moving!
Next post: Onward to West Hollywood we go! Plus, Circus Liquor!