Onward to West Hollywood we go! Plus, Circus Liquor!
So our move to West Hollywood is finally coming up this Thursday and I can't wait to be done with it. As nice as it's going to be living in this new place, if I have to pack up another cardboard box with stuff I haven't seen in the past year, my head just might explode. Then again, they say you if you haven't seen something in over a year, you don't need to hang on to it any more. Well guess what... "they" don't know what they're talking about because "they" aren't pack rats who eventually find uses for stuff they've been holding onto for years like I do.
Speaking of boxes, since we needed so many, we decided there was only one place we could go: Box City!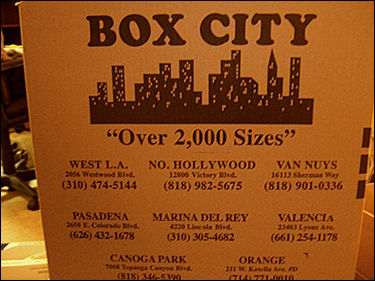 Much like Spatula City in Weird Al's "UHF", this place sells only one thing: boxes. Lots and lots of boxes. Their claim to fame is that you can get "Over 2000 Sizes" of boxes. I can't say I saw quite that many varieties there, but when you're boasting big numbers like that, you generally don't worry about whether anybody else is keeping count. Who's to question whether McDonald's has really sold over 20 billion burgers? We just have to take their word for it. Regardless, Box City definitely had a lot o' moving boxes to choose from and they were far cheaper than the ones for sale at the UPS store or the local grocery store.
Along with packing up the house, there is the inevitable "shit we simply must get rid of" phase. Most of it is stuff that isn't hard to let go of... outdated computer parts from years ago that I still have for some reason, expired "mystery foods" wrapped in tinfoil, dead batteries, t-shirts with dozens of holes in them, etc. etc. Still, there are some larger things going this time. The refrigerator we no longer need because the new place comes with one. I'm not gonna miss it really, it's just a fridge after all, but that's still one more thing I need to take care of before we're done moving out. The thing that is gonna be hard to let go of is our couch: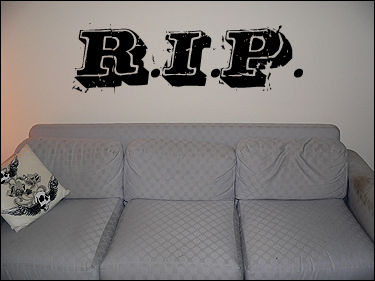 Also known as "THE Couch" amongst our friends, it's a couch that I've had forever and as a result it's insanely broken in. Probably moreso than any other couch in existence. People don't sit on this couch... they sink into this couch. It doesn't just swallow their loose change, it swallows their bodies. I've always thought it was comfortable as hell as do many others, but there are some friends o' mine (especially Protoclown) who hate it with a passion because they find it difficult to get out of. I wouldn't be surprised if a few of my friends who I lost touch with years ago are actually stuck somewhere in the depths of this couch.
Whatever the case, it's really old 'n dirty with broken shards of wood sticking out the back, so even I have to admit that it's time for a new one. Fortunately, we found a badass couch for the new apartment that will be delivered in a few weeks. It's extremely comfortable and we got to choose the color of the fabric too. We went with "GUACAMOLE!" I think it's gonna look great, and if nothing else, it sounds a hell of a lot better than some of the other names such as "CELERY", "FIG", "SEA BREEZE" and "FRECKLE RAVEN". I'll post some pics of the new couch when it arrives, along with pics of our new place once we have it all set up. But before that, I must say goodbye to THE Couch...
Goodbye old friend. You've been with us for many years, surviving countless moves and all the abuse our collective asses could deliver. You've been a place that was often more comfortable to sleep on than most beds. You've left people gaping in awe over your ridiculous level of cushiness. Most importantly, you never gave out on us. Goodbye old friend, you've earned your rest. Enjoy your retirement up in couch heaven.
On a final note, I have to tell you all about a fantastic place we stopped by the other week: Circus Liquor!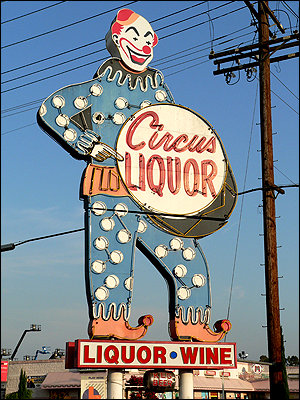 I may not drink, but I can still appreciate an insanely awesome liquor store sign when I see one. And honestly, nothing tops this place. Not only do they have an extremely sinister looking clown promoting their liquor, but the inside is a hell of a sight too. Sure, there's plenty of booze in the store, but they also have giant strips of beef jerky that appear to have tire treads on them. They have a generous supply of porn and make no effort to cover it up. They even had cans of "Cocaine" energy drink, which as you may or may not know, was pulled from store shelves as a result of the FDA's decision that the drink was "illegally marketing their drink as an alternative to street drugs". People can't even sell full cans of the stuff on eBay anymore, only empty ones. That's right people of the U.S.A., you can't name your products anything you want. Take that, freedom of speech! Still, Circus Liquor and their evil clown are more than happy to give the finger to the FDA along with anybody else who would dare tell them how to run their liquor store.
In the end, I left the shop with a big smile on my face. I skipped the booze, beef jerky and porn, but purchased a bright green Circus Liquor clown t-shirt and some cans of Cocaine energy drink. Thank you, Circus Liquor clown... thank you. My life is now one step closer to being complete.
Survey: Name something that you had a hard time getting rid of and why it was so hard to let go.
Survey #2: What are some other establishments and/or products that use creepy looking clowns in their logo?
30 comments
Leave a Reply
Previous post: Where art thou, I-Mockery?
Next post: Cocoa Krispies Cereal Straws, 7-Eleven Hot Dog Lighters and a Zombie Walk!